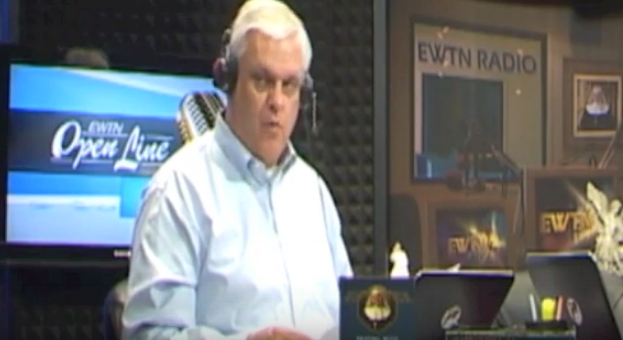 Divorce Is Never A Sin?
Posted by Mary's Advocates
On May 7, 2016
EWTN Guest Apologist says Divorce is not a Sin Because Pope not Enforce Canon Law
BLOG > ENTREATIES
May 7, 2016 – Open Letter to EWTN
Corrections:
On May 13, Colin Donovan taught, and
on May 19, Dr. David Anders taught
about need for bishop's permission for divorce.
Dear EWTN,
On your show "Open Line Wednesday," the guest apologist answered a question about the sinfulness of divorce and canon law. Do you agree that he taught your listeners that divorce is not a sin? How many listeners, unhappy with their marriage, now feel emboldened to force divorce on their family?
The guest apologist lightly dismissed the canon law describing the pastoral practice set up by the Holy See to manage separation of spouses and divorce. Herein, I show the Q&A you broadcasted, and offer clarifications based on sources complied on Mary's Advocates website.
Question 
Catholic canon law says that a married couple must have the approval of the local ordinary to separate (which would equal an approved separation with the bond remaining). Is it a sin to refuse this cannon, separate, and divorce? How does one get canon law enforced?
Answer
The quick response – from my understanding, Jack, is that it wouldn't be constituted as a sin per se. Although it is in canon law; you can check out canons 1151 to 1155 as well as canon 1692. It does state that before a Catholic couple physically separates and intending to get a divorce, they should consult the local ordinary (namely the bishop). But, from my understanding, although this law is on the books, it's not a law that is enforced by current legislation, namely Pope Francis, the Supreme Legislator of law, and even previous supreme legislators, namely the popes who came before Pope Francis. There are various laws, from what I have learned, that are technically on the books, but because the legislator does not intend to enforce them, they are not to be enforced. So one would not be in sin for going against them. And this would be an example of those kind of laws that are on the books, but not being enforced by the current legislator, namely the Pope. So, technically, the bottom line is that the individual would not be guilty of sin.

Expertise
The authority from which the guest apologist answered the question was his understanding, and what he's learned. When a theologian makes such serious wide-sweeping statements about the Pope's intentions, do you have any way of confirming from where he gets his understanding?
The EWTN host shows a Catholic Catechism on his desk. It teaches in paragraphs 2384-2385 that divorce is a grave offense against the natural law, immoral, and a plague on society, and only tolerable in limited circumstances as described in canon law.
Mary's Advocates publishes canon law and principles to which ecclesiastical judges have adhered in previous decades, or centuries, with links to scholarly sources here: Terms of Catholic Marriage.
Popes do Not Intend to Enforce Canon Law
The apologist made it sound like the Pope himself is the current legislation. However, the legislation is not a person; it is the canon law itself. To say that canon 1692 is not enforced by the current legislation doesn't make sense because canon 1692 IS the current legislation.
The only way a researcher could know that Pope Francis does "not enforce" canons would be to find case law in which someone appealed beyond their diocese, beyond the Roman Rota or a dicastery, beyond the Supreme Tribunal of the Signatura, and finally made recourse to Pope Francis. Then, if Pope Francis ruled that we should not enforce these canons, we would know his intentions.
Mary's Advocates has a template petition available for anyone facing an unjust divorce, so the party wanting to keep his family together can ask a bishop to apply the canons that the apologist said should not be enforced. Our educational flyer about the canon law is endorsed by the Judicial Vicar of the Archdiocese of New York. Can the apologist that seems to know the Pope's intentions provide a canonical argument as to why a diocese should not enforce the canons cited in Mary's Advocates petition?
To Divorce is Not a Sin
When the apologist made the blanket statement that an individual who divorces is not guilty of sin, he missed the important distinction that is made in the Catechism, canon law, historically authoritative church rulings, and case law from the Holy See. All parties in divorce do not have equal culpability. Some are innocent and some are guilty of ongoing immoral grave offenses against nature.
In any separation, distinctions must be made between parties and offenses:
offenses against marriage that are grave enough to justify temporary separation working toward reconciling;
offenses that justify permanent separation of spouses; and
offenses that do not justify separation at all and are based on misunderstanding, miscommunication, and difficulties that are to be expected in every marriage.
From the "Records from Pontifical Commission on the Reorganization of the Code of Canon Law" anyone can read the original Latin and English translation of those who drafted canon law under Popes Paul IV, John Paul I, and Saint John Paul II.
The apologist said that an individual who divorces is not guilty of sin. This conflicts with Pope Francis' teaching in Amoris Laetitia:
Divorce is an evil and the increasing number of divorces is very troubling. Hence, our most important pastoral task with regard to families is to strengthen their love, helping to heal wounds and working to prevent the spread of this drama of our times" (Par. 246). … "[I]f someone flaunts an objective sin as if it were part of the Christian ideal, or wants to impose something other than what the Church teaches, […] Such a person needs to listen once more to the Gospel message and its call to conversion" (p. 297)
It is one thing to have a scholarly discussion about whether or not following a man-made procedural canon law is a sin. It is another thing altogether to teach that all parties in all divorce are not guilty of sin. Was the apologist parsing words, so listeners would conclude that committing an evil is not a sin?
Listeners could benefit from better understanding the meaning of words in the Catechism and the corresponding canon law.
Separation is simply when spouses don't live together.
Canonically, divorce is simply a separation of spouses on record in the civil forum.
All divorce is an immoral grave offense against nature, except for in circumstances defined in the footnoted canon law (CCC 2384, note 176).
There are only two circumstances in which one may separate on one's own authority: adultery and grave danger in delay.
Under no circumstance can one married in the Catholic rite file for divorce without the bishop's permission first.
The bishop can investigate the marital situations himself, or have an investigation managed by a mandated delegate.
Prior to any investigation for a case of separation of spouses, the ecclesiastic authorities must try to reconcile the marriage. (c. 1695 and Amoris Laetitia (p. 242)
Because marriage involves the public good, the Promoter of Justice must participate in the proceedings for a case about separation of spouses.
The bishop or his mandated delegate is the only power with competence to determine whether a separation plan is in accord with divine law.
Sincerely Yours,
Bai Macfarlane
Mary's Advocates