True Marriage Proclamation Set
Have you thought about signing your wedding promises as a keepsake?
Two items included:
Proclamation of Consent
With fade resistant ink to last a lifetime, this 11″x14″ artistic creation, on handmade paper, shows the traditional  marriage promises as under the authority of God's Word the Bible, or the authority of the Holy Roman Catholic Church (contact us about showing different vows). Each custom-made proclamation (title, Solemn Marriage Covenant) includes the date and location of the wedding, and the names of the husband, wife, maid of honor, best man, and the presiding minister, with corresponding signature lines. If you are renewing your consent, less names are shown.
Accompanying Booklet
State law requires every bride and groom to get a state marriage license when they contract marriage, but the state does not require parties to put in writing the terms of their marriage agreement.  The language in this document includes sections on Covenant of Marriage, Arbitration Agreement Between Husband and Wife, Property, Debt, Support and Household Expenses, Household Tasks, Will, Life Insurance, Having and Raising Children, Adoption, Upbringing of Children, Governing Law, Promises regarding disputes, and Designated Rules applicable to one's marriage (i.e. Catholic Code Canon Law, or Rules of Procedure for Christian Conciliation of the Institute for Christian Conciliation).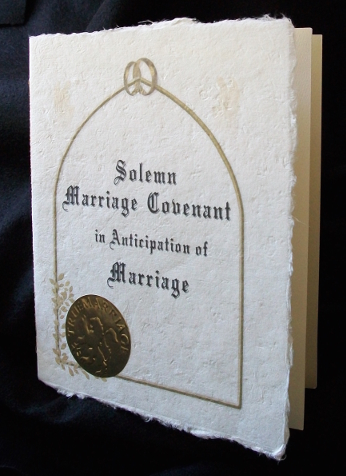 Frequently Asked Questions