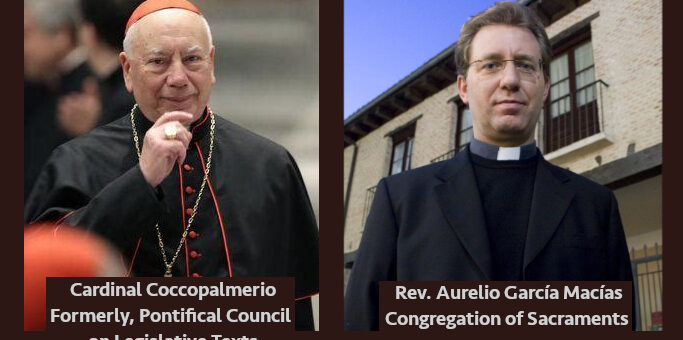 Who is right? Cardinal Coccopalmerio or Others?
Posted by Mary's Advocates
On March 1, 2022
by Bai Macfarlane
Recently, a husband (who shall remain nameless) asked his diocese for of a judgment in a case of separation of spouses. He was trying to vindicate his rights as a married man with children after his wife abandoned the marriage.  After submitting his personalization of the template petition from Mary's Advocates, Petitioner-husband was given no judgment by the diocese. So, he made recourse to the Congregation of Divine Worship and the Discipline of the Sacraments. The Undersecretary of the Congregation, Fr. Aurelio García Macías, sent the husband a copy of Cardinal Coccopalmerio's 2015 opinion about civil divorce, as if that proved the husband had no right to any judgement of his petition.  The Congregation was not going to accept the husband's recourse, nor undergo any proceeding.
Even though the husband never wrote anything to his Bishop nor the Congregation asserting that his wife was obligated to have the Bishop's permission prior to filing in the civil forum for divorce, Fr. Macías showed Petitioner-husband Cardinal Coccopalmerio's 2005 letter. My findings about this letter were published by LifeSite News in January of 2016, Two wrongs don't make a right: Is the Church handing its authority to no-fault divorce courts?
The husband, then, sent to the Supreme Tribunal of the Signature a further recourse. Read anonymous version of his recourse HERE. The husband supports his position by citing authorities from 1948-2011 who all described the judgement of malicious abandonment given by diocesan/tribunal authorities.
Of issue is whether there is a basis for a spouse to seek a judgement in a case of separation of spouses if the other spouse is already disrupting the marital life by invoking the civil forum's no-fault divorce machinations.
In other words, did the Church relegate all competence to the civil forum to determine spouses' obligations toward each other and their children? While the Church is silent, the civil forum purports to relieve every divorce petitioner of the obligation to maintain a common marital home. Civil courts often force an innocent party to lose everyday access to one's children and pay to maintain a separate residence for the other spouse and children where he is not allowed to live.