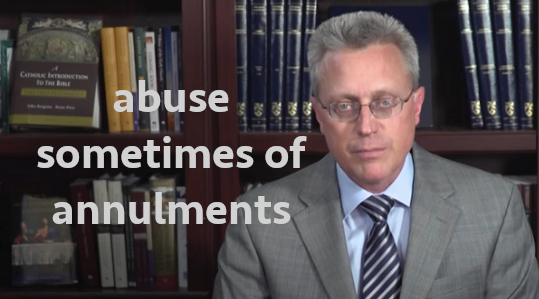 Dr. John Bergsma – abuse sometimes of annulments
Posted by Mary's Advocates
On January 24, 2022
The St. Paul Center produced "Discussing Jesus' Strict Rule on Divorce" (full video HERE). In this two-minute excerpt, Dr. John Bergsma (professor of Theology at Franciscan University of Steubenville) states the following:
… God makes that marriage bond between those two people. This is so obscured in modern culture by the frivolous use of divorce and even within the Church, by the abuse sometimes of the Church's laws about annulment which are much too frequently appealed to these days (we can't get into that), but it sets a scandalous example of young people who grow up who think that marriage is a contract that can be broken at any time by either of the parties.

Dr. Bergsma is the Vice President for Biblical Theology and Mission Effectiveness at the John Paul Center for Biblical Theology which was founded by Dr. Scott Hahn.  The presentation here was on the 19th week of ordinary time including Mt. 19:3-12, wherein Jesus is asked "Is it lawful for a man to divorce his wife for any cause whatever?"
For the separated faithful who connect with each other through Mary's Advocates, we are inspired by God's faithfulness to His people. Even if the people reject God, he doesn't give up on them. Separated faithful do not give up on their spouses either.