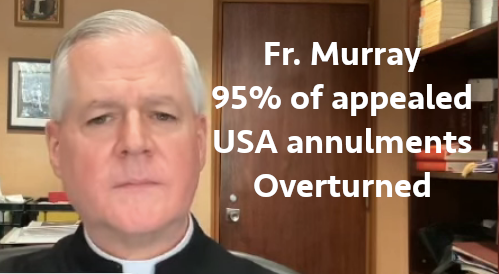 95% of Annulments Appealed from USA were Overturned
Posted by Mary's Advocates
On March 18, 2022
Says Canon Lawyer, Fr. Gerard Murray
by Bai Macfarlane
Fr. Gerard Murray, who earned his doctorate in canon law Gregorian University in Rome, says he found that 95% of the U.S. annulments appealed to the Roman Rota were overturned. In other words, when a defending respondent in a USA annulment case defends the validity of the marriage, some number of tribunals issue the annulment anyway. When defendants appealed to the tribunal in Rome, the Roman Rota judged that the marriage was valid.  An annulment, properly called a decree of invalidity of a marriage, is a judgement from the Catholic Tribunal finding that the vows parties made during a wedding ceremony were invalid and are not binding.
The account given by Fr. Murray was during an interview discussing his experience after earning canon law degree in 1998. He was assigned to work for the Diocese of New York's Tribunal.
The ideas of the Judicial Vicar were that, basically, anybody who applied for an annulment and cooperated with the process would be given an annulment (or a declaration of nullity more properly called). So I got there, and I asked. I said, 'You know, well, how many cases did you judge last year?' And it was somewhere in the realm of, maybe, 800 cases. This was back in 1998, and I said, 'Well, how many of those cases were found (you know) that the plea for nullity was not granted?' He said 'Maybe two or three.'
So, it  was evident to me they were not following the Roman Jurisprudence, which I had studied when I was in Rome — how to approach marriage. (under the um you know).
[Mary's Advocate's note (Fr. Murray gives a description of how cases were started in USA… ] You make a petition and you say this marriage was invalid because of lack of psychological maturity. And, so, it's basically an assertion that you weren't really up to be getting married because you really didn't understand based on your psychological preparation, or state of being, at the time. And, this was very much contested by Rotal Judges. So, the Rota is the court of appeals for American, or all marriage tribunals." (minute 14:24 – 15:28)

Many know Fr. Gerard Murray because he is part of Raymond Arroyo's Papal Posse on ETWN weekly news program "The World Over."  See full interview of Fr. Murray on One Peter Five, from which is taken the video excerpt above, where they are discussing his recent book Calming the Storm: Navigating the Crises Facing the Catholic Church and Society.
Murray's book "Calming the Storm" is published by Dr. Scott Hahn's St. Paul Center for Biblical Theology.  Learn more about how the faithful can endure the crises in the Church from Fr. Murray and Dr. Hahn in their January 2022 discussion.
With the non-profit organization, Mary's Advocates, I show Respondents who intend to uphold the validity of the marriage how to exercise their procedural rights. See my research findings.