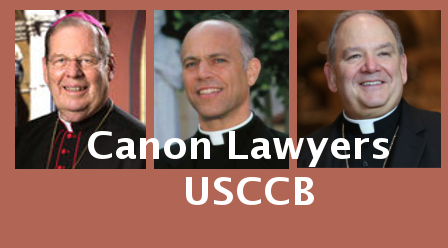 USCCB Canon Law Committee, Bai's letter
Posted by Mary's Advocates
On November 12, 2019
Letter to  members of the USCCB committee, Canonical Affairs and Church Governance
Your Excellency,
I am asking you to discuss in the USCCB canon law committee the need for the faithful to have our shepherds teach that many divorce plaintiffs are committing an immoral grave offense against nature when they file for divorce. I ask you to teach that no member of the faithful is competent to judge his own case of permanent separation of spouses and approach the civil forum (a.k.a. civil divorce, civil separation, separate maintenance, civil annulment).
Every wage earner who has been paying attention knows that marriage is a liability because the other spouse can invoke no-fault divorce to take the children and property – and get a court order to take property year after year for alimony and child support. Every young mother who wants to be a stay-at-home mom knows that doing so is practically an imprudent risk because getting out of the work force could leave her forever financially destitute if her husband ever filed for no-fault divorce.
Quick excuses include that 3 Baltimore art. 126 was abrogated by the 1983 code, but canon 6, 3o does not apply to penal laws enacted by the territory's bishops. Furthermore, canon 20 shows that a universal law in no way derogates from a particular law.
Another excuse is that custom is the best interpreter of law, so the thirty-year disregard of the canon law (regarding separation that is applicable to civil forum intervention) has resulted in the law no longer having any force. However, spouses maintaining the common conjugal life is not a simple man-made law that has no basis in divine law. Council of Trent canon 8 and 12 discussed the exclusive competence of the Church to judge. The 1788 Epistle of Pope Pius VI that I quoted in my letter to bishops below discusses the basis in divine law.  In addition, the need for bishop's permission in canon 1692 is a procedural law and canon 87 shows that a bishop can't dispense the faithful from procedural laws. Canon 87 also shows a bishop cannot dispense from penal laws.
If the entire US Church leadership relegates to the civil forum the competence to judge all separation cases, we'd be disregarding every obligation and right of marriage except one: the obligation to avoid entering a second marriage with a different person than the previous marriage.  Even for those who actually have an invalid marriage as determined by longstanding Rotal jurisprudence, the obligations of parties arranged in the civil forum are grossly unjust and our canons show that the Church decides obligations (Motu Proprio Mitis Iudex c. 1691 §1, and 1983 CIC c. 1611, 2o).
Respectfully Yours in Christ,
Bai Macfarlane
Mary's Advocates