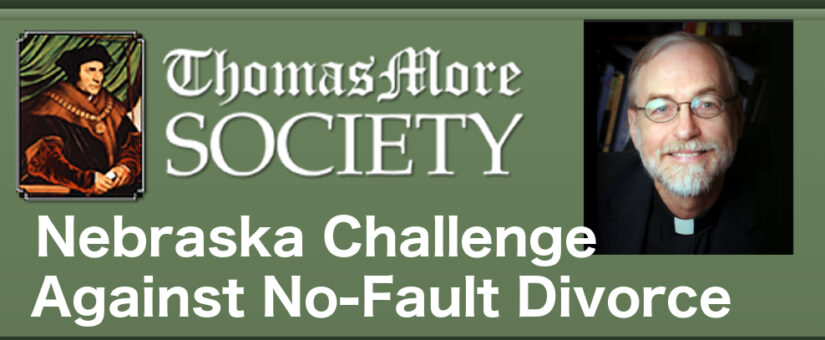 Thomas More Society Joins Constitutional Challenge against No-Fault Divorce
Posted by Mary's Advocates
On August 14, 2020
On August 13, the Thomas More Society sent to the Nebraska Supreme Court a friend-of-the-court brief supporting a constitutional challenge against no-fault divorce. The Thomas More Society, with an office in Omaha, is a non-profit, national public interest law firm dedicated to restoring respect in law for life, family, and religious liberty.
Their amicus curiae brief was sent on behalf of Rev. Donald Paul Sullins, Ph.D., Senior Research Associate of the Ruth Institute, and Director of the Leo Initiative for Catholic Social Research. When a case is in front of a court, others can submit a brief supporting the argument of one party giving his own reasons why the court should lean one way.  Rev. Dr. Sullins argues these points:
Unilateral divorce inherently undermines the institution of marriage and the best interests of children, and thus undermines any state interest in its perpetuation
Divorce's Devastating Impact on Children

Divorce results in a significant loss of financial resources and support for children
Divorce significantly reduces children's educational attainment
Children of Divorce suffer a wide range of distinct emotional and behavioral problems
The case at the Nebraska Supreme Court was brought by a Catholic defendant-husband who did not agree with his wife's wanting a divorce. Nonetheless, the state took over the couple's property, which occurs in every divorce. The husband was court-ordered to leave the marital home because the wife asked him to be kicked out.  I told his story of the night he recorded sheriffs showing up at his front door (Plea to Cardinal Sarah – Deliver us from No-fault Divorce, Dec. 10, 2019)
Mary's Advocates contacted the Thomas More Society in early July asking if they would be interested in intervening in this case. The Rev. Dr. Donald Paul Sullins surfaced as an ideal interested party to submit a brief in support of children against no-fault divorce.  The brief quotes an earlier Nebraska court case that stated, "many children of divorce have suffered long-lasting psychological and economic damage resulting from divorce" (p. 2).
The findings described in this brief indicate that any state interest in unilateral divorce is far from compelling. In particular, these findings show that divorce significantly undermines children's financial stability, educational attainment, and behavioral and emotional well-being. One would be hard pressed to explain why any rule of law that perpetuates these consequences-which have an obviously deleterious effect on society at large-advances a compelling or even rational interest. But unilateral divorce indeed perpetuates them, undermining any notion that courts must hold their noses while unilateral divorce runs roughshod over constitutional rights (p. 3).

We are waiting to learn from the Nebraska Supreme Court whether they will allow this brief to be considered as they weigh the constitutional challenge against no-fault divorce.  In the Thomas More Society's "Reasons Why Amicus Curiae Brief is Helpful and Relevant", they say "The Defendant-Appellant's brief argues unilateral divorce burdens a fundamental right. The State can have no compelling interest in advancing unilateral divorce laws against such right. This Court should consider the harms of unilateral divorce when evaluating its constitutionality."
The power of the state is limited by the U.S. Constitution and the state's constitution. When the state interferes with fundamental rights, the state must justify its interference and satisfy certain criteria (i.e. strict scrutiny standard). The state is supposed to be able to show why they have a compelling interest and Sullins lays out why the state should have no compelling interest; no-fault divorce hurts children.
Oral Arguments Scheduled for September 3
The oral arguments in front of the Nebraska Supreme Court and Court of Appeals are schedule for September 3 at 9:00 am. All oral arguments of the Nebraska Supreme Court and Court of Appeals are televised live from the Supreme Court and Court of Appeals courtrooms from Nebraska Educational Television's Live 8: On Demand: State Government website, http://netnebraska.org/basic-page/television/live-demand-state-government. Video and Audio archives are uploaded on the Judicial Branch website, archives HERE. The court uploads digital audio files of appellate proceedings at web-site https://supremecourt.nebraska.gov within 24-hours of the close of arguments for the day, unless otherwise directed by the Court.
§
---
COURT EVENTS
Nov. 12, 2018  – Wife's Complaint for Divorce
Dec. 20, 2018 – Husband's Motion to Dismiss
Feb. 1, 1019 – District Judge Harder Court Overrules Motion to Dismiss
April 3, 2019 – Husband's Answer to Divorce Complaint
June 20, 2019 – Trial, Mary's Advocate obtained Defendant's Closing Arguments.
June 20, 2019 – Husband notify Nebraska Attorney General and US A.G.
Aug. 28, 2019 –  District Judge Illingworth Court Divorce Decree of Dissolution
Sept. 6, 2019 – Husband Notice of Appeals
Sept. 6, 2019 – Court of Appeals Received and Assign Case Number
Sept. 12, 2019 – Wife's Motion to Exclude husband from home
Sept. 17, 2019 – Hearing Schedule for Sept. 23 to decide whether to Exclude (evict).
Nov. 12, 2019 – Judge orders husband leave home on Dec. 6 w/ Sheriff enforcement
Dec. 23, 2019 – Husband asks Nebraska Supreme Court to decide case
Dec. 23, 2019 – Husband submits his argument, Brief of Appellant
Aug. 13, 2020 – Amicus Brief, from Thomas More Society
Aug. 13, 2020 – Motion for Leave to File Brief of Amicus Curiae 
Aug. 20, 2020 – Supreme Court accepts Amicus Brief, motion to file sustained (update)