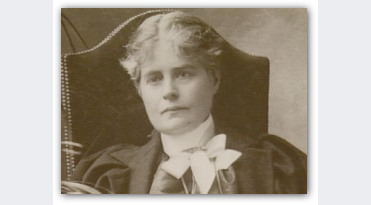 Religious Order, Founded after Implementation of Church Law on Separation of Spouses
Posted by Mary's Advocates
On July 13, 2017
By Bai Macfarlane
Over one hundred years ago, on December 8, 1900, the Archbishop of New York approved the founding of a new religious order: Servants of Relief for Incurable Cancer. December 8 is important to me because it both the Feast of the Immaculate Conception, and is my wedding anniversary (yr. 1990).
The founder of the Servants of Relief for Incurable Cancer, Rose Hawthorne, was the daughter of Nathanial Hawthorne who wrote The Scarlet Letter. Rose surprised her family by converting to Catholicism in 1891. She married a man with whom she had a troubled marriage. Her husband abused alcohol and he endangered her. Rather than attempting to 'end' her marriage, she implemented the longstanding practice of obtaining from the Church an ecclesiastic decree of separation of spouses. She did not ask that her marriage be declared invalid with an annulment.
The National Catholic Register story on July 9, "Mother Mary Alphonsa, Daughter of Nathaniel Hawthorne, is Now Called a Servant of God" stated "Neither would be free to marry until the other died so they demonstrated their belief in the indissolubility of marriage and in the Sacrament of Matrimony even as they separated."
Rose Hawthorne's case for canonization was opened by the late Edward Cardinal Egan in 2003.
Servant of God
The late Edward Cardinal Egan, Archbishop of New York, approved the opening of her cause for canonization in 2003. Her story, with its hints of literary romance and reality of separation and sorrow, demonstrates how strong the call to holiness can be. Out of her disappointment and grief from her failed marriage, Rose Hawthorne Lathrop as Mother Mary Alphonsa found a new vocation and a way to serve the poor and destitute in the late nineteenth and early twentieth century. The Dominican Sisters of Hawthorne, as her order is known today, offers this prayer for her canonization on their website:
Lord God, in your special love for the sick, the poor and the lonely, you raised up Rose Hawthorne (Mother Mary Alphonsa) to be the servant of those afflicted with incurable cancer with no one to care for them. In serving the outcast and the abandoned, she strove to see in them the face of your Son. In her eyes, those in need were always "Christ's Poor."
Grant that her example of selfless charity and her courage in the face of great obstacles will inspire us to be generous in our service of neighbor. We humbly ask that you glorify your servant, Rose Hawthorne, on earth according to the designs of your holy will. Through her intercession, grant the favor that I now present (here make your request).
Through Jesus Christ our Lord. Amen.
She is now called a Servant of God.

See Full National Catholic Register story HERE