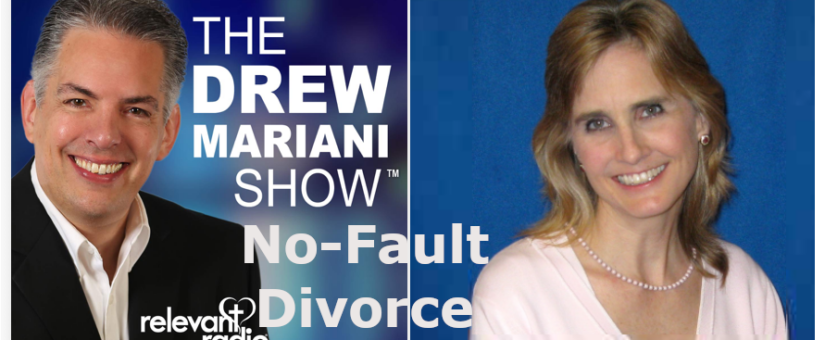 Relevant Radio, Texas Bill to overthrow No-Fault Divorce
Posted by Mary's Advocates
On May 3, 2021
April 29, I was Drew Mariani's guest on Relevant Radio talking about Texas House Bill HB3188  to overturn unilateral no-fault divorce.  Texas Representative Matt Krause has introduced several bills aimed at protecting children and spouses who have done nothing grave to justify permanent separation.

Play our discussion HERE at the second half of the second hour on 4/29/21.
I learned about this legislation from Texas resident, Jeff Morgan, a no-fault divorce reformer. He gave my written testimony against unilateral no-fault divorce to Representative Krause for bills HB 3187, 3188, and 3190. Jennifer Roback Morse (Ruth Institute) provided written testimony also, along with Katy Faust (Them Before Us).  Video archives of in-person testimony can be found in the Juvenile Justice & Family Issues Committee hearings from April 26.
Here is my written testimony:
I direct the non-profit organization Mary's Advocates, and among other things we support those who are unjustly abandoned. We recognize that there are some circumstances in which separation of spouses is justified. However, with abandonment, a divorce defendant spouse, who has done nothing grave to justify separation, can find his children forcibly denied everyday access to the defendant. Additionally, the defendant typically is deprived access to all his property that is shared marital property.
For those who marry in any kind of religious affiliation wherein it is understood that a bride and groom do not agree to have themselves forcibly removed from their children without grave fault, unilateral no-fault divorce is the impairment–by the state–on obligations of a contract. For those who marry in a religious affiliation that only tolerates fault-based separation of spouses (as part of the marriage contract/covenant/sacrament) the state always takes the side of the person who wants to renege on their obligations with no-fault divorce.
For those who marry to ensure the stable upbringing of their children wherein, as a parent, one has everyday access to one's children, unilateral no-fault divorce impairs on the fundamental liberty of raising one's own children. Every other weekend, or 50-50% time is not the agreement marrying parties made prior to children being conceived.
Unilateral no-fault divorce should be abolished.
Sincerely Yours,
Bai Macfarlane
Director, Mary's Advocates