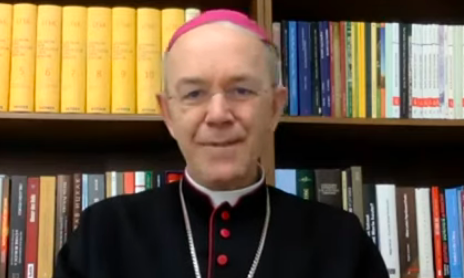 Bishop Schneider, Obligation to Reconcile
Posted by Mary's Advocates
On May 2, 2021
Thank you Bishop Athanasius Schneider for discussing the obligation to reconcile with one's spouse even after one has been divorced and entered a so-called second marriage with someone else.
Bishop Schneider joins regular meetings of the Confraternity of Our Lady of Fatima. On April 15, Dr. Michael Sirilla presented questions to Bishop Schneider.  Around minute 22, Dr. Sirilla asked Bishop Schneider a question from a woman who was in a second marriage (civilly). After the answer was given, Sirilla asked a follow-up question. Is there an obligation to separate from one's cohabitation partner and return to one's true spouse.
I don't remember ever hearing clergy discuss this. In our network of separated faithful, if a prodigal spouse repents and wants to restore an intact home, the faithful spouse is ready to forgive and work on reconciling the family. For example, listen to separated spouses describe openness to reconcile after being reluctantly divorced.
It was refreshing to hear Bishop Schneider say what I think is obvious to children of separated/divorced parents. They have the obligation to reconcile (barring some grave danger or impossibility).
From www.livefatima.io: "The Confraternity of Our Lady of Fatima is a world-wide family of Catholics who are dedicated to bringing about the Triumph of the Immaculate Heart of Mary as soon as possible and are dedicated to spending the rest of their lives living out the call of Our Lady of Fatima and in doing penance for poor sinners and reparation to Her Immaculate Heart. It was started in 2020 by Christopher P. Wendt, the International Director and Dr. Michael Sirilla, Professor of Dogmatic and Systematic Theology at Franciscan University, and became approved by His Excellency Bishop Athanasius Schneider on July 26, 2020."
Dr. Sirilla is also part of the Veritas Amoris Project (Truth of Love), along with some professors who formerly taught at the JPII Institute in Rome that had been dismantled in 2019.