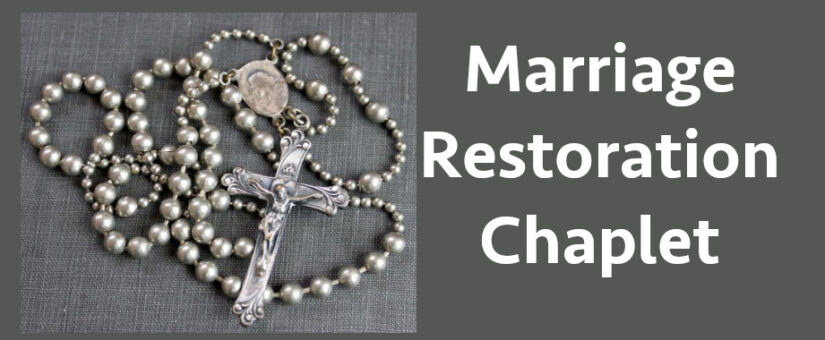 Marriage Restoration Chaplet
Posted by Mary's Advocates
On May 7, 2021
by Austin Steo, Archdiocese of Washington (Standing since 2010)
Around Easter of 2020, I was inspired to create a prayer chaplet for those of us who remain faithful to our marriage vow despite our spouses' behavior and actions attempting to divide that sacred sacrament we continue to uphold. It's simply called the Marriage Restoration Chaplet. Initially, I intended to start it like a novena every year on Easter as a sign of hope in the resurrection of our marriages, and I saw it as a way of joining in with the trust in God's Divine Mercy. I see it as a personal devotion that one could say on their wedding anniversary or any significant date in one's married life, including in association with other novenas and prayed in groups also. With further development it could be part of a novena also.
With this chaplet, we are praying in remembrance and restoration of the blessings of our marriages.
The idea of this chaplet is to remember and meditate on five blessings of our marriage on each of the five decades of a rosary as described below. I am also researching other church-defined marital virtues that may change the blessings here, but for now I hope these five encompass common themes that standers could identify with, whether standing or happily married. So, while I've chosen five, anybody could replace each with their own remembered blessings. Consider them like categories. In the event I can get a formal blessing for this chaplet by a priest I would stick to a specific set of blessings and prayers.
The five blessings are not set in any particular order. If done alone, it can be whatever order, but picking an order can help remember them each time prayed. The key is meditating on the reality of each blessing God gave us in our marriage on each decade.
The five blessings are:
1-Friendship,
2-Intimacy,
3-Family life–even if there are no children.
4-Mutual support
5-Shared faith.
How it is prayed.
On the rosary beads we begin with the sign of the cross on the crucifix, and then an Our Father. Then on the three beads we say: "Glory be to the Father and the Son and the Holy Spirit." –just the first part. Then on the last big bead say "Your Will be done," which is also part of the decade prayers as you will see.
Then on the first large bead that normally would be an Our Father, we announce the blessing for that decade and simply say, "I renew my marriage vow to (name of your spouse, or my wife, my husband)"
When prayed together as a group you would instead say either husband or wife. Now it could be in interesting in a group setting for each to name our spouses—many different names heard at one time in a group—have to see how that goes.
The individual decade prayers are meant to be simple, and easy to say. On each bead of the decade the restoration prayer is this:
"Father, please restore my marriage. Your will be done. I trust in you."
Each following decade begins on the single large bead with the short restoration payer mentioned above, with the next blessing to remember announced. When finished with all decades we end by praying a Hail Mary and closing with another sign of the cross.
If you pay attention to the words of the decade, it is one of pleading, also trusting, and accepting in God's ultimate Will for us. To me, all the prayers are a sign of hope; it's a way of living in hope, regardless of what the outcome is. What is the alternative? Quitting or giving up, bring with them emotions and feelings and attitudes that affect our ongoing relationship, not only with our spouses, but also our children and all the people we meet and ourselves. The effects of division are real and our attitudes and responses in prayer to this division can be either positive or negative. Hope is a medicine. God is the doctor. And we can ask for and receive a prescription and antidote through our prayers.
May we all be continually blessed by our stand for marriage.
Austin Steo
Standing since 2010