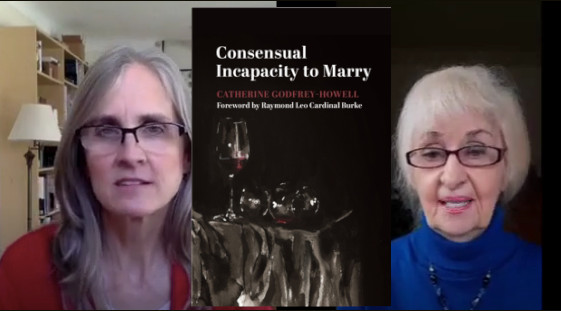 "Consensual Incapacity to Marry" – Outrageous Tribunals
Posted by Mary's Advocates
On June 13, 2021
Sheryl Temaat and I discussed a recent book about decrees for invalidity of marriage, "Consensual Incapacity to Marry." The book is an adaptation of the dissertation of the author, Catherine Godfrey-Howell, who earned her doctorate from Pontifical University of Holy Cross (Santa Croce, Rome). Cardinal Raymond Burke wrote the forward for the book.  When I told Sheryl about the book "Consensual Incapacity to Marry," she agreed to video record our discussion about several stark discoveries uncovered in the book.
In his forward, Cardinal Raymond Burke says, "This book can be very helpful for canonists and others who know or at least sense that the 'received American jurisprudence,' still deeply ingrained in the operation of too many tribunals, is not correct." Sheryl started suspecting that the American annulment practices were incorrect when someone in her extended family was told by a U.S. Tribunal that their marriage was invalid and Sheryl started doing her own research. She found the writings of Fr. Lawrence Wrenn describing his reasons for invaliding marriage, which Sheryl said were to be "outrageous." Sheryl says is terrible that Tribunals requiring a civil divorce prior to an investigation about the invalidity of marriage.
The author (Kate/Catherine) collected writings of canonists in the United States in the 1960's to 1980's, so Sheryl and I read several excerpts and give viewers our response.