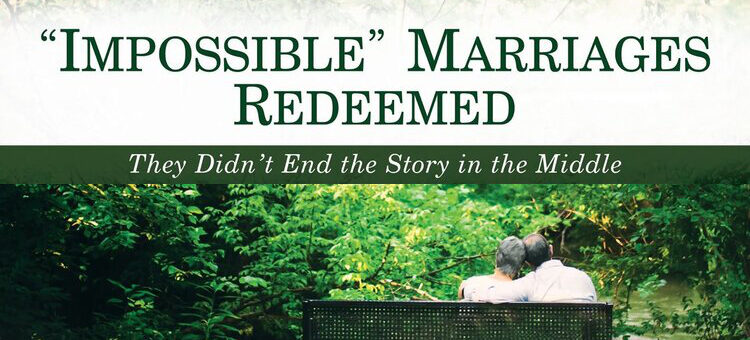 "Impossible" Marriages Redeemed
Posted by Mary's Advocates
On April 10, 2020
by Bai Macfarlane
Leila Miller just released her latest book which she says will bring hope to struggling marriages: "Impossible" Marriages Redeemed: They Didn't End the Story in the Middle.
The book's introduction begins, "Catholics are against divorce in theory, but not in practice."  Leila says, "being viscerally against saving marriage has become the default position in many Catholic circles" … "Even among our clergy and counselors, there is a near-universal 'divorce, annul, and move on' mindset." One woman who had successfully overcome a trying time in her marriage, told Leila that fifteen years earlier, six priests said they would help her through the annulment process.
This message from modern clergy stands in stark contrast to Pope Leo XII's teaching that, if it is impossible for a couple to stay together for some grave reason, the church "never ceases to endeavor to bring about a reconciliation, and never despairs of doing so" (Arcanum, Feb. 1880).  Leila points out that friends or family members of those who "want out of a bad marriage" rally with sympathy, have no tools to help, and tell the complaining friend it's ok to divorce.
The devil wants people to throw off their cross, but our crosses are our ladders to heaven.  Impossible Marriages Redeemed contains real contributors' stories of crisis and redemption. "Over all the clamoring for 'moving on' and 'starting over,' you'll hear the real experiences of ordinary people who found their way by honoring the vows they made before God and witnesses" says Leila.
The book's forward is by Phillip Lawler, founder of Catholic World News. He calls the contributors to the book his heroes especially when they stand strong against the influence of neighbors, relatives, friends, and even pastors who advised them to look out for themselves, to escape an unhappy situation. Lawler laments that the Church does not offer married couples adequate help. Furthermore, he says, "it's downright scandalous that often the 'help' that is offered is the toxic acceptance of divorce. Out of a misguided sympathy for an unhappy spouse, priests and parishioners leap to the conclusion that the situation cannot be salvaged. But it can!"
Besides the testimonies about those who reconciled after horrific marriage crises, the book contains the testimony of standers, who honor their marriage vows even after their spouses have abandoned them and even remarried.  Leila, the editor, says, "Even the Church seems to have forgotten these few courageous souls, who are often patted on the head, scolded, or even deemed emotionally unhealthy for not 'moving on' to find that shiny new romance themselves. The profound sacrifice of these lonely but faithful souls makes the rest of us uncomfortable, yet we need to honor them as heroic witnesses for matrimony."
My favorite story of impossible marriage redeemed was contributed by Professor Anthony Esolen, who wrote about his wife's parents. His mother-in-law was a very, very difficult wife to her husband. With poetic beauty Esolen weaves together their twisting story and Church teaching about marriage, with a tear-jerking ending (contributor no. 50).
In the stories of those who are separated and remaining faithful to marriage, several mentioned the help they've found from Mary's Advocates. Sadly, some relayed how their priest undermined marriage.
I eventually left my old parish, because the current pastor assumed that because my husband was dating, I must be dating, too! I left that day in tears. Scandalously, he wasn't the only priest who encouraged me—a married woman—to date and/or divorce and 'move on.' After all, the priest said, everyone can get an annulment (and my diocese has a 100% affirmative rate on granting declarations of nullity, so he was not entirely wrong) (contributor no. 52).

One faithful separated woman says, "Through all the injustice, all I can do is run to the Lord. I can truly say I have never been closer to Jesus—how could I not be? I am right on the cross with Him. My only consolation is that this life is temporary. It will pass."
Leila ends the book with a prayer she wrote for those interceding for their own troubled marriage, and a version that their friends can pray.