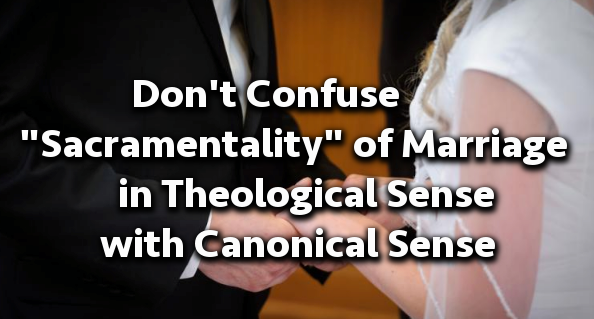 Don't Confuse "Sacramentality" in Theological Sense with Canon Law Sense
Posted by Mary's Advocates
On March 18, 2020
Sacramentality Equals Permanence in the Context of Validity of Marriage
..
by Bai Macfarlane
I am responding to the story in LifesiteNews Vatican theologians help pastors protect sacraments asked for by 'baptized nonbelievers that cites Edward Pentin's similar story in National Catholic Register. I'm concerned that readers are getting the impression that a baptized person must have an intention of "sacramentality" to validly marry.  Sacramentality has different meanings in different contexts.
Problems arise when readers confuse the sacramentality of matrimony in its theological sense, with the sacramentality of marriage in the canonical sense.  Whether someone intends to be a very serious practicing Catholic, and have a lot of faith, has nothing to do with whether they validly enter marriage.  They only must intend the essential obligations of marriage.
Permanence (equals sacramentality in canon law legalese)
Open to children
Fidelity (no actual physical full adultery)
Oriented towards mutual help and remedy for concupiscence (commonly called bonum coniugum, that is subordinate to the upbringing and education of children)
If sacramentality of marriage is assumed to mean one's "desire to live life as a fully authentic Catholic," then readers will mistakenly think that the priest is supposed to judge whether the parties have enough of that desire to validly enter marriage.  The measure of whether one intends to enter marriage is not based on parties' desire to live life as a fully authentic Catholic. The measure is whether one intends to uphold the obligations of marriage (listed above).
Sacramentality equals permanence in the context of validity of marriage. Traditionally, marriage is understood to include several "goods," one of which is sacramentality (bonum sacramenti). I'll cite Msgr. Cormac Burke's, a judge of the Roman Rota, whose book on marriage titled The Theology of Marriage: Personalism, Doctrine, and Canon Law, was published in 2015 by The Catholic University of America:
The three "bona" are essential properties which distinguish the marital covenant from any other type of relationship between two persons. In brief summary we can say that the three goods or "bona" are: 1) the 
exclusive fidelity
 of the marital relationship (one man with one woman: the "bonum fidei"); the 
permanence
 of the relationship (the unbreakable character or indissolubility of the marital bond: the "bonum sacramenti"); the (potential) fruitfulness of the union (procreativity or the openness to having children: the "bonum prolis", or the "good" of offspring).
In passing it should be noted that "sacramentum" (in the expression "bonum sacramenti") does not refer to the sacrament of matrimony in its theological sense. Augustine used the word "sacramentum" in its original Latin sense of something with a "hidden" or "deeper" meaning. The Church has always held that the unbreakable character of the marriage bond is a sign (sacramentum) of God's unalterable love for each human being. The "bonum sacramenti" therefore does not refer to the supernatural means of grace peculiar to christian marriage, but to the indissolubility of the marital bond which is an essential character of each and every marriage also on the natural level. (Source. Roman Rota Judge Cormac Burke. The Goods of marriage (in Encyclopedia of Catholic Doctrine, Our Sunday Visitor, 1997. Ed: Russell Shaw)

If two baptized Catholics consent to the natural obligations of marriage, then their marriage is automatically a sacrament (assuming no other grounds for invalidity exist, like already being married to someone else, or suffering a severe psychopathology which incapacitates their intellect and will).
Additionally, consider the explanation by Dr. Ben Nguyen, published in Adoremus in 2015. Benedict Nguyen is a canon and civil lawyer and serves as the Canonical Counsel & Theological Adviser for the Diocese of Corpus Christi (Texas). He also serves as an adjunct professor for the Avila Institute for Spiritual Formation.
Natural Marriage and Sacramental Marriage – What's the Difference?
This is perhaps one of the most commonly misunderstood distinctions regarding the Church's teachings on marriage. Failing to understand this distinction has caused serious confusion in many of the discussions regarding especially the declaration of nullity process and its reform.
In a nutshell, "natural marriage" is a marriage that a man and a woman have when they enter into a marital relationship containing all the natural elements that God has put into what marriage is. Thus, even if they are not baptized Christians, they are truly a husband and a wife.
A "sacramental marriage" (i.e. "Christian marriage") is when two baptized persons have a valid natural marriage and, because they are baptized, that marriage is now also a sacrament of the Church with all that it means to be a true sacrament.
It is important to remember that marriage is first a "natural institution," that is, it is established by God as a good in creation, endowing it with its own proper laws (cf. CCC 1603-1605 and "Gaudium et spes" 48)." Written by God into the nature of man and woman, the common and permanent characteristics of marriage can be seen and understood by all. However, like other aspects of the natural moral law, it is not always transparent everywhere and with the same clarity due to ignorance, cultural biases, sin, etc. Nonetheless, where these natural law elements of marriage are followed, a human person, whether baptized or not, is able to enter into a true, valid marital relationship as God designed it to be. Contrarily, where any one of these natural aspects is missing, the relationship cannot be considered a valid marriage because it would lack an essential element that would have established it as a true act of marrying. (source. Marriage Law Revisited – Part I)

The articles in LifesiteNews and National Catholic Register publish statements provided by Capuchin Father Thomas Weinandy about a recent document released by The International Theological Commission. He discussed a hypothetical engaged couple who wants to marry on the beach, but at the request of others, chooses to marry in Church:
 "The sacramentality of the event does not enter their minds, and they could care less. They do not even know what it means for marriage to be a sacrament. They will say 'Yes' to all of the priest's preparatory questions, not because they believe what is being asked, but because they just want to get on with it—Mom wants them to get married in church so that is what they are doing and will say and do anything to assure this."

Notice "they say 'yes' to all of the priest's preparatory questions, not because they believe."  The priests role can be to teach a couple about marriage, but in canon law, he is required to investigate whether the couple intends to uphold the essential oblations of marriage. His questions must include "Do you agree marriage is open to children, and requires that you refrain from actually committing adultery?" If a groom lies when answering "yes" to the priest's questions, the marriage is invalid because the groom committed fraud (canon 1101 simulation). The marriage is not invalid due to his lack of desire to live life as a fully authentic Catholic and his indifference about whether his marriage was a sacrament.
I don't want our priests to be overburdened with a unnecessary requirement of judging whether each of the engaged parties has the adequate desire to live life as a fully authentic Catholic."