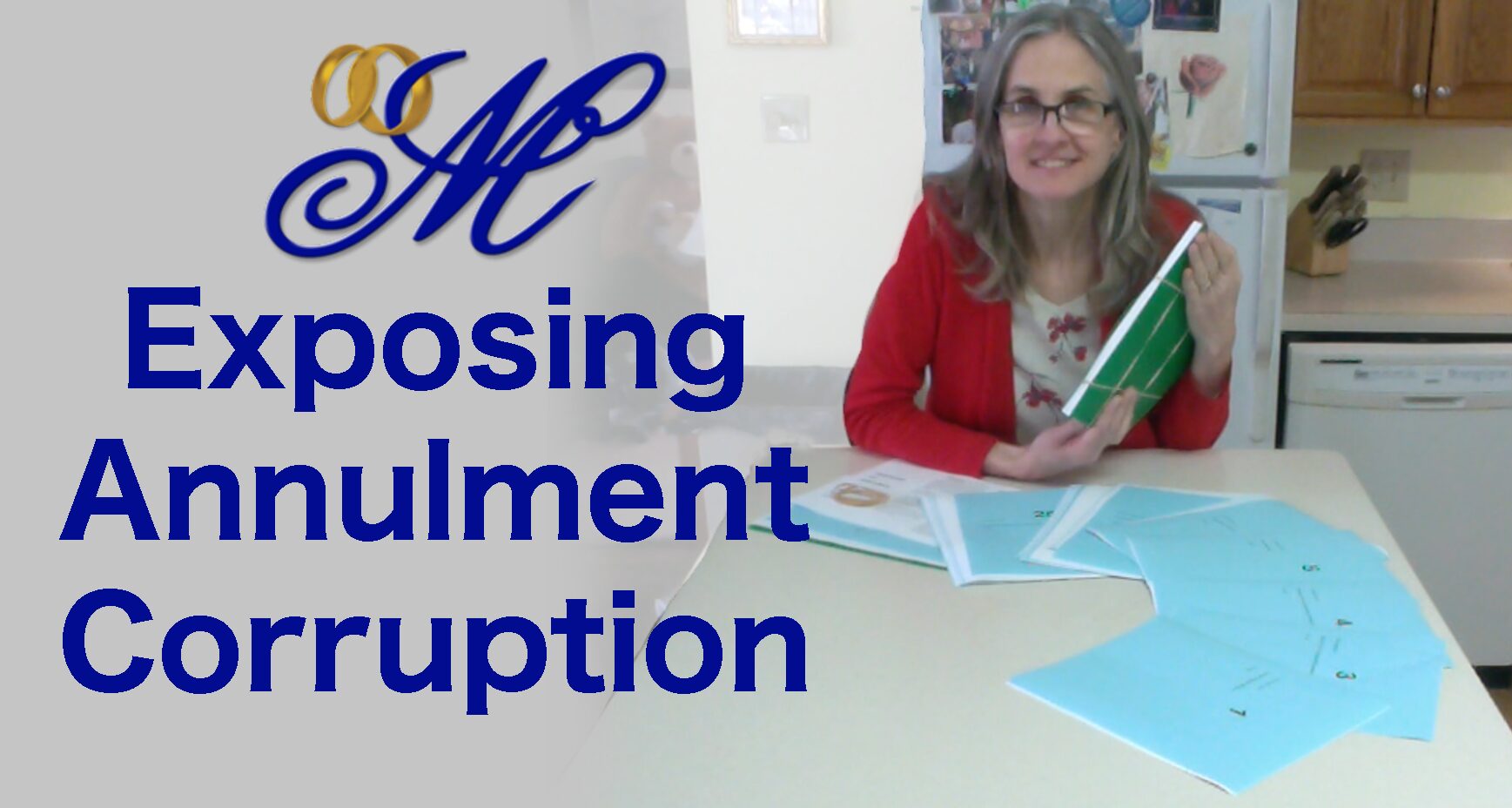 Exposing Annulment Corruption
Posted by Mary's Advocates
On April 25, 2020
by Bai Macfarlane
Something is wrong with the many annulments being granted by Catholic tribunals in the United States. Mary's Advocates is helping defendants drain the swamp.
During the past several weeks, I've helped defendants in two different dioceses bring complaints to the Holy See exposing negligence which appears systemic in their tribunal. The diocesan websites and form-letters to defendants show the tribunals are not upholding the rights of defense for those who believe that their marriages are valid.  I show defendants how to send their paper-record to offices in the Holy See responsible for overseeing Tribunals throughout the world: The Supreme Tribunal of the Signatura and the Roman Rota.
Most recently, I showed a defendant how he could ask the Signatura to study the vigilance of the tribunal and issue precepts (see excerpts here).  In the photo, I'm showing his exhibits. Among other things, he complained that tribunal personnel keep hidden from defendants the essence of the accusation being weighed by the judge. The most commonly used ground for annulment used by U.S. tribunals is canon 1095 §2, which actually means that one party had a serious psychic anomaly or grave psychopathology at the time of their wedding.* Instead of informing defendants of the essence of what is being weighed, the tribunal personnel provide incorrect information which is misleading, erroneous, and even deceptive. Had the husband known the principle question being investigated (i.e. someone's mental illness), he would have participated much differently.
He was aggrieved by a judgement from an influential canon lawyer priest who got a doctorate in canon law in 1981. This was a tumultuous time for canon law because everyone knew that the canon law was being reorganized as a result of recommendations stemming from Vatican II.  Those wanting the Church to be lax were hoping that the new canon law would change the longstanding grounds for annulment.
Cardinal Raymond Burke teaches about "The Relation between the Apostolic Signatura and the Particular Churches." About the practices of US Tribunals from 1971 to 1983, Cardinal Burke said, "the poor quality of many first instance sentences examined by the Signatura, together with the evident lack of any serious review on the part of some appellate tribunals, demonstrated the grave damage done to the process of declaration of nullity of marriage by the effective omission of the second instance during those years" [Source: Burke, Cardinal Raymond L.. "The Relation between the Apostolic Signatura and the Particular Churches." The Jurist 74 (2014): 31-57. pg. 55]
Saint Pope John Paul II, Pope Benedict XVI, and Cardinal Raymond Burke cautioned against tribunals being lax. Ignatius Press described abuses in Homiletic and Pastoral Review in 1995, 2001,  and 2005.  More recently, Fr. David Nix (Aug 29, 2017) and Professor Anthony Esolen (June 19, 2020) voiced concerns. Catholic Author, Leila Miller says that "among our clergy and counselors, there is a near-universal 'divorce, annul, and move on'" mindset.  Miller's most recent book, 'Impossible' Marriages Redeemed: They Didn't End the Story in the Middle, tells the stories of dozens of couples who overcame marriage crises and provided an intact family for their children.  One of her contributors wrote,
Over the years, I consulted with up to six different priests while going through a tough time in our marriage. Each one said I had grounds for an annulment, and that he would help me through the process. The last time I consulted a priest was about 15 years ago, and this one said the same thing. I told him I did not want a divorce or an annulment, but rather to stay married and find meaning in my situation. He said that in his experience of witnessing marriages in an ongoing crisis like mine, healing was impossible.

Those who want to uphold the validity of their marriage are in a difficult situation if they are in a diocese that accepts every petition and issues annulments in 100% of their decisions.  The Canon Law Society of America shows that over one third of the reporting tribunals grant annulments in every case. Find 2016 data here that also shows most dioceses adjudicate the case of every petitioner.  Of those, here is a sampling of the dioceses which grant the highest number of annulments.
| | | |
| --- | --- | --- |
| Diocese | In favor of the Bond | In favor of nullity |
| Cleveland | 1 | 247 |
| Rockville Centre | 0 | 227 |
| Wichita | 2 | 187 |
| Raleigh | 0 | 168 |
| Kansas City in Kansas | 1 | 159 |
| Boston | 1 | 157 |
| Louisville | 0 | 137 |
| Columbus | 3 | 133 |
Canon law requires a tribunal to offer free advocates to parties. An advocate is supposed to have a doctorate in canon law or be a recognized expert in canon law.  "[T]he tribunal is bound by the obligation to provide that each spouse is able to defend his rights with the help of a competent person, most especially when it concerns causes of a special difficulty" (D.C. art. 101 §1). However, if the Tribunal is overseen by a canon lawyer judge from the era in which there were poor quality of sentences issued, it is imaginable that the tribunal cannot provide an advocate who is fastidious about correctly protecting the rights of a defendant who intends to uphold the validity of his marriage. Some tribunals have all the day-to-day correspondence with parties managed by laypeople who only know what they were taught by their predecessors.
Unlike tax accountants or plumbers, independent canon law experts are not readily available for hire. Degreed canon lawyers that are employed full time to work for one diocese might not be available for hire to challenge the practice of another diocese. I'm a self-studied expert in canon law, and those helped by the resources of Mary's Advocates say they are grateful to find us. I wonder if there is a mentality of circling of the wagons amongst the canon lawyers employed by dioceses that are happy with the status quo.
* NOTE
Saint Pope John Paul II, Address to the Roman Rota: 25 January 1988, "Bearing in mind that only the most severe forms of psychopathology impair substantially the freedom of the individual;" 5 February 1987, "The hypothesis of real incapacity is to be considered only when an anomaly of a serious nature is present, which, however it may be defined, must substantially vitiate the capacity of the individual to understand and/or to will."