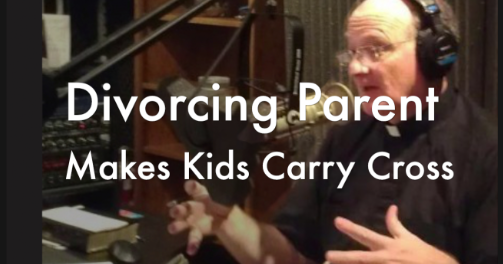 Illinois Priest – Upholding Marriage Against Divorce
Posted by Mary's Advocates
On December 19, 2019
Fr. Thomas Koys, in Lemont Illinois, discussed divorce on his December 4th podcast by reading excerpts from the book "Primal Loss, the Adult Children of Divorce Speak" (starting min. 25).  Only in the most extreme situations is divorce tolerable and Fr. Koys challenges women who want divorce. Divorce is refusing to pick up one's own cross, and, instead, putting it on one's children.
Women, says Fr. Koys, have an instinct to sacrifice for their children. Women say "I'll die for my children." But, these same women, for the sake of their children,  won't live with their children's Dad.  For a Catholic wife, if her husband is not committing adultery,  separation is only tolerable under extreme circumstances such that separation is the only way to keep she and her children safe from repeated grave abuse (see more).  It is hypocritical for a woman to say she loves her children, but refuses to live with their Dad. Her children need her to live with their Dad and teach them about God's plan for marriage and keeping one's marriage promises.
In my work to uphold marriage against no-fault divorce, I see a pattern. A woman who files for divorce against her husband claims that her husband is so terrible that permanent separation and divorce are justified. However, the same woman refuses to cooperate with Catholic experts who are known to help couples strengthen marriage.  The Retrouvaille program, for example, describes the four stages of marriage.  The third stage after disillusionment is misery; this is very common. Rather than cooperating with one's husband and following through on the practices recommended by the experts, a divorce-Plaintiff-wife repeats "I deserve a divorce."  These women don't even have any examples of the repeated dangerous abuse that they undergo from their husbands presently.
On his podcast, Fr. Koys shares Leila Miller's observation that priests and therapists "have planted seeds for divorce and annulment in couples' minds." Fr. Koys says he can relate. When you see someone in a painful situation, it is easy to think that leaving the spouse seems reasonable.  However, Fr. Koys and his guest reiterate the longstanding Church teaching about marriage being an adventure involving two, as "we" who are supposed to help each other out.
Those who counsel for annulment after only speaking to a disillusioned wife usually say things like, "maybe you were to immature to marry," or "didn't have the freedom to know what you were getting into."   These counselors are using simplistic phrases to refer to canon 1095 §2, which is about those who "suffer a grave lack of discretion of judgment."
Ironically, what the counselors omit saying is that this ground has nothing to do with the other spouse, and is only applicable to those who were mentally incompetent to contract marriage because they suffered a serious psychic anomaly, severe forms of psychopathology,  or mental illness at the time of marriage (See 1987 JPII, 1988 JPII, and Benedict XVI). If a disillusioned wife in Fr. Koys' area really had grounds for a 1095 §2 annulment, the counselors should be telling her to petition in the Illinois civil courts for a civil annulment. Illinois statutes specify that when it involves the essentials of marriage, the marriage is invalid if "a party lacked capacity to consent to the marriage at the time the marriage was solemnized, either because of mental incapacity or infirmity or because of the influence of alcohol, drugs or other incapacitating substances" (750 ILCS 5/301).
It is notable, that the same woman who both first) refuses to cooperate with those who are expert at helping couples move past disillusionment and misery, and second) complains that she deserves a divorce because her husbands is so abusive, is thereafter coached by counselors to petition the Church for an annulments based her own incapacity to consent.
The counselors can't have it both ways. If the woman really deserved a 1095 §2 annulment based on herself, then she should be apologizing to her husband for tormenting him for all those years since she was so mentally screwed up that she couldn't even conceptualize and chose something as natural as marriage (i.e. open to children, avoiding adultery, permanence, and oriented toward mutual help).  The mentally incompetent woman should be repairing, as much as possible, the harm she caused her husband, rather than taking his property and children via no-fault divorce. The husband should face no threats of losing everyday access to his children. Moreover, the woman should certainly not be awarded one penny of spousal support – because she was never really the man's spouse at all.
The good news is that publishers have recently released books that shed light on the misuse of psychological grounds for nullity of marriage.
The bad news is those counselors condoning divorce and sure-thing annulments are apparently not reading the books.