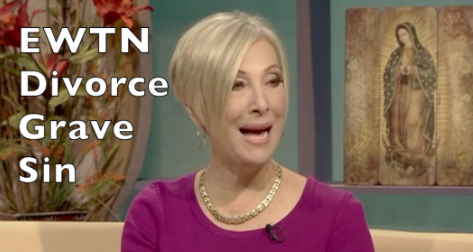 EWTN – Divorce is Sin, and Need Bishop's permission
Posted by Mary's Advocates
On March 13, 2019
ETWN's host Johnnette Benkovic Williams discusses divorce, and said that canon law requires the bishop's permission prior to anyone filing for divorce.
Johnnette hosted Leila Miller who published the book, "Primal Loss, The Now-adult Children of Divorce Speak."  Their 5-part video series, titled "Divorce and Children: The Truth of It All" is airing this week at 11:00 am Eastern, and again at 11:30 pm. Archives are available for the full week's program to subscribers of Women of Grace. Monday's episode (Part 1) is available for everyone here.
In context of the excerpt from Part 2, they discussed the morally legitimate basis for separation of spouses in contrast to the immoral cause of most divorces, in which one spouse just grows disinterested in the other (or sometimes both simultaneously). The no-fault divorce courts are evil.
For Catholics (by default) no one is supposed to be separated from one's spouse in the first place.  In delimited circumstances (such as unrepentant adultery, and dangerous abuse) it is legitimate for a spouse to separate from the other who is breaking the marriage promises. However, one is not supposed to be one's own judge in a case of separation of spouses.  Leila Miller and Johnnette also discussed how, in the U.S., annulments are routinely a cause of bitterness for children of divorce, because the Church is betraying along with whichever parents caused the breakup the family.
We've come a long way.
Catholics used to erroneously repeat that the Church has no objection to divorce, only objecting to entering a second marriage without an annulment. Now, even on EWTN, the grave sin of many divorces is exposed along with the requirement in canon law to get bishop's permission. Mary's Advocates shows a spouse how to invoke the canon law on separation of spouses to both try to stop a breakup and prevent scandal by correcting the party causing the breakup.