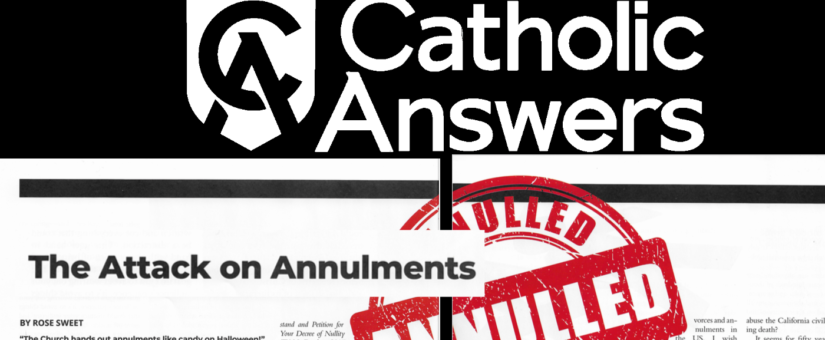 The Attack on Annulments
Posted by Mary's Advocates
On March 15, 2019
Challenging Catholic Answers' defense against "Attack on Annulments"
I could not leave unchallenged statements made by Rose Sweet in her article titled "The Attack on Annulments" published by Catholic Answers in their March-April print magazine.
Their website shows editor (Tim Ryland), director of apologetics (Tim Staples), and senior apologist (Jimmy Akin) take very seriously that many people look to them for the true authentic teaching of the Catholic Church. I ask Ryan, Staples, and Akin to reconsider their choice to have Rose Sweet defend the status quo annulment situation in the U.S.
The article "The Attack on Annulments," starts by listing three objections to annulments: 1) The Church hands out annulments like candy on Halloween!; 2) All you need is money and you get an annulment. 3) Annulment? What a joke; it's just Catholic divorce." Rose Sweet hypothesizes about those who believe there is an annulment scandal:
Who is making this claim?
People who argue there is an annulment "scandal" include those who are:
Genuinely concerned that mar­riage is being slowly deconstructed by our culture (it is) and perhaps also by the Church (it isn't)
Hurt or even furious (and fight­ing against the shame) at having their own marriage declared null
Resentful that they have to stick it out in their less-than-happy marriages and hold to their diffi­cult vows while others seem to be getting off so easily
Afraid that if the Church loosens any rules, all hell will break loose (by Rose Sweet. The Attack on Annulments. Catholic Answers Magazine. March-April 2019)

Notice how Sweet categorizes those who are most intimately affected by any alleged scandal: the respondents whose marriages were declared invalid despite their efforts to defend its validity. Sweet puts aggrieved respondents in two boxes. They are either hurt, or they are furious and fighting against the supposed shame of having an invalid marriage. She omits those who are aggrieved because the proceeding was an attack against the truth.
Saint Pope John Paul II
When Saint Pope John Paul II discussed the annulment scandal, he discussed the violence against truth occurring when tribunals incorrectly decide a marriage marked by serious difficulties is invalid. "A valid marriage, even one marked by serious difficulties, could not be considered invalid without doing violence to the truth and undermining thereby the only solid foundation which can support personal, marital, and social life" (1990 Address to Roman Rota).
Cardinal Raymond Burke
When Cardinal Raymond Burke gave a talk at Catholic University of America in 2014, he said the annulment process was called "catholic divorce" and he describes the grave damage done in the late 70's and 80's to the annulment process by the poor quality of tribunal's judgments.  Cardinal Burke's statement sounds identical to the assertion that Rose Sweet set herself up to rebut, "Annulment? What a joke; it's just Catholic divorce."
Cardinal Raymond Burke was the Prefect of the Supreme Tribunal of the Signatura from 2008 – 2014. He served as the Defender of the Bond at the Signatura from 1989 -1994. He wrote his JCD dissertation on Lack of Discretion of Judgment Because of Schizophrenia: Doctrine and Recent Rotal Jurisprudence. 
Pope Benedict XVI
When Pope Benedict XVI in 2009 discussed the annulment scandal of abusing the psychological grounds for nullity, he said that the "concrete and pressing problem" exposed by Saint Pope John Paul II still continues:
  There are any number of topics which we might discuss on this occasion, but now, some twenty years after the Addresses of Pope John Paul II regarding psychic incapacity in the causes of matrimonial nullity (5 February 1987,
L'Osservatore Romano
 English edition, 23 February 1987, p. 6 and 25 January 1988, 
ibid.
, 15 February 1988, p. 7), it seems fitting to question the extent to which these interventions have had an adequate reception in ecclesiastical tribunals.
This is not the moment to draw up a balance sheet, but no one can fail to see that there continues to be a concrete and pressing problem in this regard (2009 Address to Roman Rota).

In Sweet's article for Catholic Answers, she states that she is not a canon lawyer, so why did Catholic Answers give her the podium to teach readers about annulments when her opinion is contrary to two popes and the Prefect of the Supreme Tribunal of the Signatura?
U.S. Bishops
Furthermore, Bishop Morlino of Madison Wisconsin said in 2017 "The annulment processes in the United State, honestly, have been abused for many years" (watch here). Bishop Michael Sheridan of Colorado Springs said in his endorsement of one of his priest's canon law dissertations, "The most overused and misused canon in the judgment of the validity of marriages by tribunals of the United States is canon 1095.2" (see source).
Catholic U of America Professor
Professor William Daniel, who teaches canon law at Catholic University of America wrote a paper, "Ongoing Difficulties in the Judicial Praxis of American Tribunals in Causes of the Nullity of Marriage." He concludes that "marriages are not infrequently declared null with little or no foundation" […] "at the end of a trial that inflicted injustice on the other spouse" (pg. 259 Jurist 74, 2014).  He says "the problems existing in the American tribunals, whose origins appear to be in the period of 1970-1983" […] "concern the very indissolubility of marriage itself, especially its protection."
Sweet appears not to recognized that grounds for separation of spouses based on grave abuse (sin) are not the same as grounds for invalidity of a marriage due to psychological anomaly.
Changes supposedly adding Psychological Grounds in light of Vatican II
In Sweet's article, she gives readers the impression that psychological grounds for nullity were somehow a new development in light of the Second Vatican Council.
  [I]n light of the Second Vatican Council, new psychological insights, and the American Procedural Norms (effective July 1, 1970), tribunals began to re­vise archaic norms and—among oth­er changes—address incapacity due to psychological defects. By the end of the decade, US tribunals were able to legitimately grant thousands more declarations of nullity on psychologi­cal grounds.

An uninformed reader would conclude that incapacity to consent to marriage due to psychological defects was a new basis for invalidity of marriage after Vatican II. That is simply not true. Cardinal Raymond Burke has given Mary's Advocates permission to republish two of his papers in which he discusses the historical application of the same principles which were grouped together in the canon law published in 1983:
Cardinal Raymond Burke wrote about case law from the world's Catholic appeal court, The Tribunal of the Roman Rota, and the 1947 instruction about marriage cases Provida Mater Ecclesia.
The fact of the matter is that the lack of discretion of judgment is simply a more purely juridical term for insanity, a term which causes confusion because of its medical meaning (which is to be considered in the final part of the discussion of terminological confusion) (pg. 11)." […] "The 1917 code is silent regarding the grounds of nullity involved in cases of insanity or lack of discretion of judgment. It clearly presumes, however, that there is a grounds. Canon 1982 requires the opinion of experts 'also for causes of lack of consent because of insanity.' The Instruction Provida Mater Ecclesia simply explicitates the above procedural norm without adding any new light on the nature of the grounds (Cdl. Burke. Lack of Discretion. pg 17).

The Code in 1983 had been reorganized after Vatican II and the language about psychological ground for nullity of marriage was brought into one place. Compare this language to that which I list later from the 1917 Code:
Can. 1095 (year 1983).
The following are incapable of contracting marriage:
1/ those who lack the sufficient use of reason;
2/ those who suffer from a grave defect of discretion of judgment concerning the essential matrimonial rights and duties mutually to be handed over and accepted;
3/ those who are not able to assume the essential obligations of marriage for causes of a psychic nature.

The principle that those who lack sufficient use of reason are incapable of entering a contract is nothing new or surprising to canonists of the day.  Researchers can find tables that show the correlating canon law numbers from the code published in 1983 to the code published in 1917 and confirm that no totally new principles were introduced for grounds for invalidity of marriage.  The psychological grounds for nullity correlate to these canons from the 1917 Code (See Navarra Code Annotated, Augustine, & Woywod).
Notes on 1917 Canon Law
88 §3 – Persons habitually devoid of the use of reason are in law to be held equal to infants.
1081-1082 – These two canons establish the absolute necessity of the matrimonial consent, its physiological and physical object (can. 1081), and its bearing on the mental condition of the contracting parties (can. 1082).
1089 §3 – When a proxy stands in for a principle party, if the principle becomes insane prior to the contract being exchanged, the marriage is invalid.
1982 – The verdict of experts is required also in cases of defective consent caused by insanity.
2201 – Those who are deprived or destitute of the use of reason can't commit a crime, and the corollary is true for entering marriage contract (source for 1917 code here).
1917 Code's Canons
88§ 3. Impubes, ante plenum septennium, dicitur infans seu puer vei parvulus et censetur non sui compos ; expleto autem septennio, usum rationis habere praesumitur. Infanti assimilantur quotquot usu rationis sint habitu destitute
1081 § 1. Matrimonium facit parti urn consensus inter personas iure habiles legitime manifestatus ; qui nulla humana potestate suppled valet. § 2. Consensus matrimonialis est actus voluntatis quo utraque pars tradit et acceptat ius in corpus, pcrpetuum et exclusivum, in orcline ad actus per se aptos ad prolis generationem.
1082 § 1. Ut matrimonial is consensus haberi possit, necesse est ut contrahentes saltern non ignorent matrimonium esse societatem permanentem inter virum et mulierem ad filios procreandos. § 2. Haec ignorantia post pubcrtatcm non praesuraitur.
1982 Etiara in causis defectus consensus ob amentiam requiratur sufTragium peritorum, qui infirmum, si casus f era t, eiusve acta quae amentiac suspicionem ingerunt, examinent secundum artis praecepta ; insuper uti testes audiri debent periti qui infirmum antea visitaverint
2201 § 1. Delicti sunt incapaces qui actu carent usu rationis. § 2. Habitualitcr amcntes, licet quandoque lucida intervalla habcant, vcl in ccrtis quibusdarn ratiocinationibus vel actibus sani videantur, delicti taxnen incapaces praesurauntur. § 3. Delictum in ebrietate voluntaria commissum – aliqua imputabilitate non vacat, sed ea minor est quam cum idem delictum committitur ab eo qui sui plene compos sit, nisi taxnen ebrietas apposite ad delictum patrandum vel excusandum quaesita sit; violata autem lege in ebrietate involuntaria, imputabilitas exsulat omnino. si ebrietas usum rationis adimat ex toto; minuitur, si ex parte tantum. Idem dicatur de aliis similibus mentis perturbationibus. § 4. Debilitas mentis delicti imputabilitatem minuit, sed non tollit omnino.