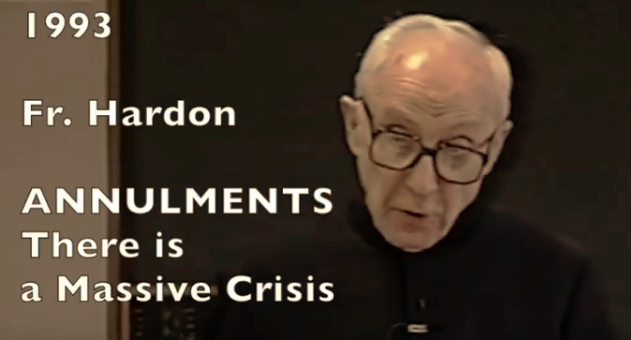 Annulment Crisis exposed by Fr. John A. Hardon
Posted by Mary's Advocates
On July 11, 2019
Renown Catechist and Catholic writer, Fr. John Hardon, knows there was an annulment crisis.  One of his students in New York, who was a civil lawyer, says that it is easier to get a Church annulment than a civil divorce. A canon lawyer working for a Tribunal in Michigan told Fr. Hardon that everyone who applies for an annulment has a right to get one. This attitude, says Fr. Hardon, is the beginning of the end of the Catholic Church in America.
Fr. Hardon wrote "The Catholic Catechism" in 1975. The website promoting his cause for canonization says, "This work stands as a significant contribution to Catholic orthodoxy, written at the request of His Holiness, Pope Paul VI, with whom Fr. Hardon had a close working relationship." [… He] "also served as a consultant for the drafting of the Catechism of the Catholic Church, edited by Joseph Cardinal Ratzinger (later Pope Benedict XVI)."
This excerpt was taken from a teaching he gave on December 5, 1993 (full video HERE). He gave his students a copy of the article in Homiletic and Pastoral Review "Too Many Invalid Annulments."
In 1971, the U.S. Bishop's had special permission to omit the review of annulment decisions by a second court. Cardinal Burke, who had both served as the Defender of the Bond and the Prefect of the Supreme Tribunal of the Signatura, taught that during these years, for good cause, the annulment process became known as "Catholic Divorce" (listen HERE).
Mary's Advocates is a non-profit organization focusing on reducing unilateral no-fault divorce and supporting those who are unjustly abandoned.  Respondents defending their marriage against accusations of nullity can learn how to uphold their rights by contacting Mary's Advocates.