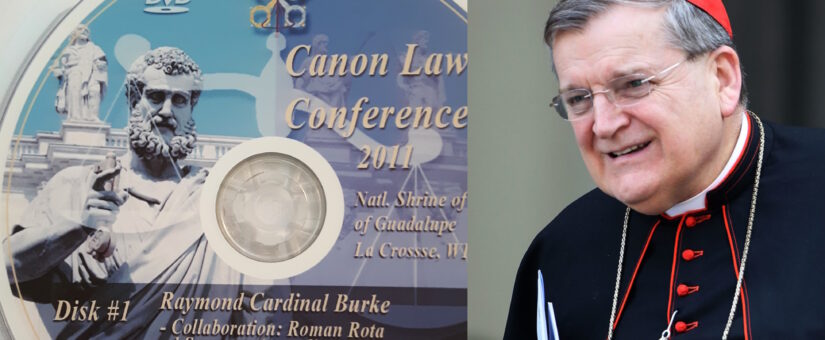 Cardinal Raymond Burke – Rota Judges Can be Wrong
Posted by Mary's Advocates
On July 4, 2019
"The prelate-auditors of the Rota, sharing in common humanity, can fail in one or another decision to express concisely the consistent manner of judging at the Rota in a determinate matter, or even to abandon in some ways such a stable manner of judging." (Cardinal Raymond Burke)
Mary's Advocate's recently obtained the video recording of a teaching that Cardinal Raymond Burke gave on August 8, 2011 to the Canon Law Conference at the National Shrine of Our Lady of Guadalupe, in La Cross, WI.
Cardinal Burke, at the time, was in charge of the highest appellate tribunal in the world. He was the Prefect of the Supreme Tribunal of the Apostolic Signatura.  Marriage nullity cases start by being  judged at the local diocese' tribunals. Thereafter, an aggrieved party has the right to appeal to a predetermined U.S. tribunal or the Tribunal at the Holy See called the Roman Rota.  From the Roman Rota, in limited circumstances, and aggrieved party can appeal to the Signatura.  According to the Catholic Apostolic Constitution Pastor Bonus, the Signatura "functions as the supreme tribunal and also ensures that justice in the Church is correctly administered."
In Catholic Canon law, one of the job descriptions of the Roman Rota is to provide unity of jurisprudence so that judges in the whole world know how to decide similar matters.  However, as Cardinal Burke points out, sometimes a judge at the Roman Rota can decide incorrectly.  In other words, if a Rota judge imposes his own opinion, rather than judging in accord with longstanding historical exegesis, then he's failed.
Cardinal Burke criticizes one author who promotes annulments being granted for all sorts of psychological disorders based on behavioralist and personalist principles that are judged to prevent a "conjugal community of life and love."
Under Pope Francis
Under Pope Francis, the automatic review of affirmative decisions granting annulments was eliminated and appeals tribunals can reject any appeal for which they decide that the appellant is just wasting everyone's time.  These 2015 changes came after the Pope created a committee of eleven canonists.  His committee included Cardinal Coccopalmerio, who is reported to be involved in the Vatican 2017 drug fueled homosexual orgy, and is named by Cardinal Vigano as having covered up for homosexual predators inside the Vatican.
Other members of Pope Francis' committee changing the annulment process included five monsignors who to serve as auditors (judges) on the Tribunal of the Roman Rota.
Dean (appointed 2012) Msgr. Pio Vito PINTO (age 78) from Italy
Pro-Dean (appointed 2016) Msgr. Maurice MONIER (66) from France
Auditor (appointed 2007) Msgr. Michael Xavier Leo AROKIARAJ (61) from India
Auditor (appointed 2013)  Msgr. Alejandro W. BUNGE (67) from Argentina
Auditor (appointed 2016) Msgr. Miroslav Konštanc ADAM, O.P. (55) from Sloviaki
In June of 2016, Pope Francis made the off-the-cuff remark that the vast majority of marriages are invalid.