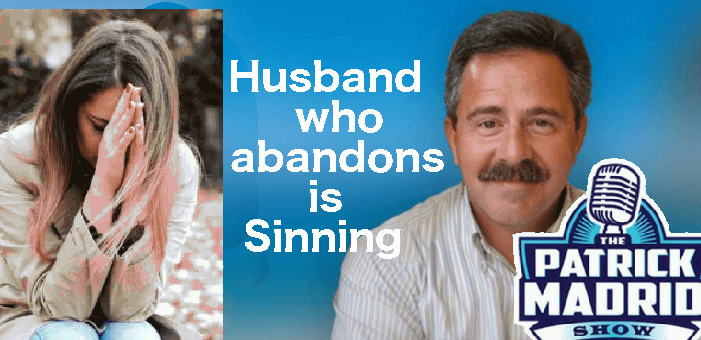 Husband who Abandons is Sinning
Posted by Mary's Advocates
On July 12, 2019
Patrick Madrid spoke to a caller about her husband who is cohabiting with another woman and the other woman's children. "He is sinning. He can pretend that he's not. We all have ways of rationalizing our own bad behavior.  All of us do. He's in rationalization mode where he is convincing himself that it is OK, it is not going to be a problem. But none of it is real. None of it is true."
Excerpt from 8 min. 15 sec. Full show HERE
On the July 9 Patrick Madrid show, a rosary-praying woman, Iona, told him that she and her husband (who have a 13-year-old daughter) are divorced. Iona said her husband left the marriage blaming her for her alcohol problem and thereafter he took up residence with another woman who already had children and they got civilly married. At the time of her Catholic marriage, Iona said she did not have an alcohol problem and she is now a respondent in an annulment case in which psychological grounds are being alleged.
Madrid encouraged Iona that nothing which occurred years into the marriage is relevant to invalidity of the marriage. Iona is concerned that her husband is giving their daughter scandal and she wants to teach her daughter God's plan for marriage.  It is sinful for Dad to be civilly married to another woman.
Madrid encouraged Iona to contact Mary's Advocates, to pray for her husband, to teach her daughter the truth about marriage, and not be intimidated by those who want her to be quite.
A Catholic husband should not abandon his wife, even if she has a drinking problem.  A husband is committed to his wife's good, which includes helping her overcome an alcohol problem, not divorcing her and cohabiting with another women.  For Catholics, entering a so-called second marriage through a civil ceremony is simply publicly celebrating adultery.
Mary's Advocate provides resources for those defending their marriage against accusations of invalidity, and shows petitioners how to ask the Church to facilitate reconciliation of broken-up marriages.