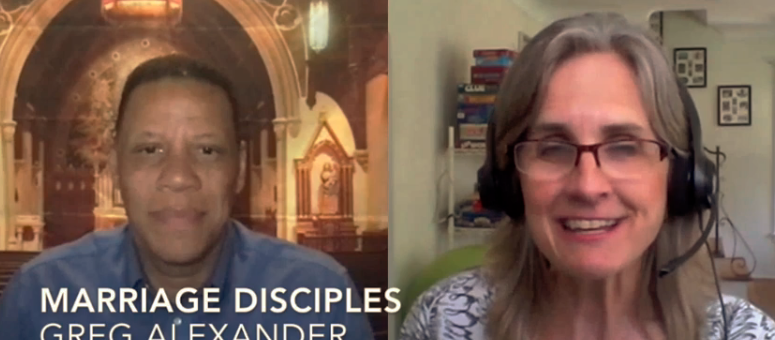 Finding Candidates to be Marriage Disciples
Posted by Mary's Advocates
On July 15, 2019
by Bai Macfarlane
In my marriage work aimed at reducing no-fault divorce and supporting those who are unjustly abandoned, I am encouraged to know that the Marriage Disciples Program, developed by Greg and Julie Alexander, has a 99% success rate helping couples become great, happy, and holy.
Greg and I discussed how anyone could get the Alexander House' Marriage Disciples program going in their area by finding other couples to do what Greg and Julie started.  Marriage Disciples meet (two-on-two) with another couple and relay God's plan for marriage.  Greg describes the need we all see:
(min 16:28) There are many people who are under the misconception that because we are Catholic and were married in the Catholic Church (which then makes is a sacrament, and the sacrament dispenses grace), so all the graces in the marriage relationship should be there for the marriage to be great, happy, holy and wonderful. And it is–to that extent that we are only made available to that grace in how well we participate with God, in living the sacrament. So again, God has a plan for marriage and if we don't know that plan, we can't live it the fullest way.

In their own marriage, Greg and Julie were on the brink of divorce. Only because of the advice of an encouraging priest, did they decide to reorient their lives and follow God's plan for marriage. They organized what they learned to share it with others.
(min 19:56) No one is talking about this. Some of the topics, of course, are not appropriate for the pulpit, but in most parishes nothing is being spoken from the pulpit about marriage. There are no enrichment programs. It is almost as if we take them in the beginning and say 'now we'll marry you, and go do this till death do you part and good luck'.

The Alexanders have developed six modules, with videos, discussion questions, and handouts:
Servant Spouse (min 20:10)
God's plan for chastity in marriage
Understanding forgiveness and healing
Communication
Focusing on needs and being a helpmate
Spirituality in Marriage
Any couple that has been through rough times, is committed to living God's plan for marriage, and has the kind of personally that makes others comfortable, could apply to be Marriage Disciples. After initial training, The Alexander House asks Disciples to be willing to commit a little over two hours a week.  Disciples couples would only be asked to mentor two other couples at a time.  Couples being mentored meet with the Disciples weekly for seven weeks and could meet via video conferencing. Ongoing training is available for the Disciples who join in a monthly conference call with the Alexanders.
While everyone can't be a marriage disciple in the Alexander's program, we can all help strengthen marriage in general, by finding candidates who might be perfect. The Alexanders' goal is to have one or two Marriage Disciples in every diocese.
Ask about being a Disciple by writing Robin, at [email protected], or phone 210-858-6195.