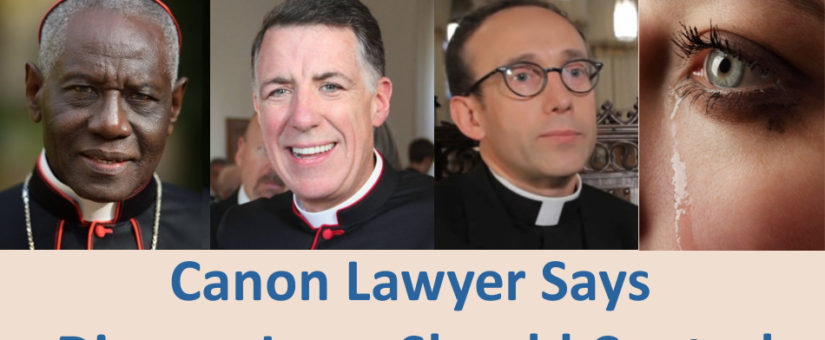 US Canon Lawyer Says Divorce Laws Should Control
Posted by Mary's Advocates
On November 6, 2017
Metuchen NJ Canon Lawyer Thinks Unilateral No-Fault Divorce and Marital Abandonment are Moral.
Defendants in unilateral no-fault divorce are all too familiar with losing natural everyday interaction with their children, having to move out of the family home, and going broke after paying lawyers tens of thousands of dollars.  A woman divorce defendant in New Jersey is shocked to learn that some canon law school must be teaching Catholic priests that this routine is morally acceptable.  Canon law was developed over the centuries to ensure that Catholics treat each other in accord with Christian principles and Catholic doctrine.
The woman's identity is kept private and we'll call her Jane Smith. With Mary's Advocates' help, she is appealing to Cardinal Robert Sarah, head of the office of Discipline of the Sacraments in Rome, about the pushback she's getting from Fr. Robert Kolakowski, JCL. ( See Jane's Letter HERE.) Fr. Kolakoski is the canon lawyer working on behalf of the Bishop of the Diocese of Metuchen, The Most Rev. James Checchio.
Mrs. Smith petitioned Bishop Checchio, using the canon law template published by Mary's Advocates, asking the Church to try to facilitate reconciliation and advise her husband that he promised to work together with Jane to keep an intact home for each other and their children.  Her husband, as a professed Catholic, is not supposed to separate from Jane unless she's done something really grave, like dangerous abuse or adultery, which she denies. Most causes for separation should only be temporary.
Fr. Robert Kolakowski met with Mrs. Smith and thereafter wrote her a letter in which he indicates that the Catholic Church canonized the divorce laws with one exception– whether the parties are free to enter a second marriage with someone else.  By canonizing civil law, the Church requires Catholics to embrace the civil divorce law. His letter gives the impression that the only aspect of marriage about which the Church has concern is whether married people enter second marriage and have sex with someone else.
In Mrs. Smith's letter to the Cardinal Robert Sarah, which she copied to Fr. Kolakowski and the Bishop, she explains her situation, "I wish for the disinformation that my husband was given to be corrected. He appears to believe there is nothing wrong with civilly divorcing me, forcing me out of our family home, and leaving me financially destitute. He told me five priests affirmed him."
Furthermore, Mrs. Smith challenges the conclusion of Fr. Kolakowski:
It seems irrational to believe that a civil divorce system is in accord with divine law which, by court orders and coercion, purports to relieve an abandoning spouse of most of his obligations, to the detriment of the other spouse and children.  As occurred in my case, the civil divorce system routinely financially rewards abandoners, and results in children losing normal everyday interaction to the other parent–who is keeping the marriage promises and wants an intact home. My husband's financial position is better after the divorce and was able to purchase a third home. My financial situation is horrific and I cannot resurrect my career because I had been out of the workforce for seventeen years, as stay-at-home-mom (48 April 2017, Sec. 10). 

Mrs. Smith knows that canon law requires a diocese to judge a lawfully submitted petition and she's asking for a judgment in her marriage separation case. For Catholics, divorce is nothing more than a case of separation of spouses.  Mrs. Smith quotes Catholic documents that show, "The one who is responsible for the divorce has the obligation to repair evil," and "a party at fault in separation is not due support from the innocent party."  To illustrate her husband's obligations, she cites an international resource on canon law that shows that her husband's behavior "must not involve a detriment to the corporal or material good of the other spouse."
In Fr. Kolakowski's letter, he discussed an opinion published in 2015 by another Cardinal in Rome, Cardinal Coccopalmerio, head of the pontifical office for interpretation of canon law. He basically turned canon law about divorce upside down.
For centuries, canon law has held that only when there was a legitimate basis for separation of spouses, could a Catholic file for divorce, and a party has to have the authorization of the bishop to do so.  Mrs. Smith told Cardinal Sarah, "Cardinal Coccopalmerio did not provide an opinion about a matter that was lacking in the law; he provided an opinion that was contrary to the law and contrary to the practice of the Roman Curia."  She then cited 16 sources ranging from the 1500's through 2008 that Cardinal Coccopalmerio contradicts.
While it is disappointing that Church leadership is spreading conflicting teaching, it is not a surprise. On November 1st,  Fr. Thomas G. Weinandy, O.F.M., Cap., a highly regarded and accomplished theologian published his critical letter to Pope Francis, in which he described those with harmful theological and pastoral views, who are exposing what was previously hidden in darkness.
If you share Mary's Advocates' concerns about the Church's apparent disinterest and detachment from unilateral no-fault divorce amongst Catholics, please share your opinion with your diocese or contact Fr. Kolakowski. Experts in Church law and moral theology must explore how justice and natural law should be applied at the time of separation. We need to take into account whether the basis for separation is temporary or permanent, whether one party was mentally incapacitated or lying on the wedding day, which party is reneging on his marriage promises, and the priority of preventing scandal and ensuring financial stability for children and a faithful spouse.
The Christian faithful have, "at times the duty to manifest to the sacred pastors their opinion on matters which pertain to the good of the Church and to make their opinion known to the rest of the Christian faithful, without prejudice to the integrity of faith and morals, with reverence toward their pastors, and attentive to common advantage and the dignity of persons" (canon 212).
For more information see The Current Marriage Crisis in the Light of the Original Creation and the Code of Canon Law.