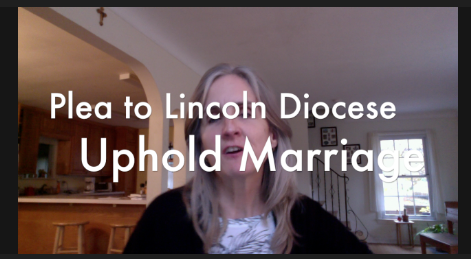 Plea to Lincoln Diocese to Uphold Marriage
Posted by Mary's Advocates
On October 31, 2019
by Bai Macfarlane
I've been corresponding with a Catholic husband in the Diocese of Lincoln Nebraska for many months who is seeking help from the Church in his marriage crisis.  Join my plea to the diocese Promoter of Justice, canon lawyer, Msgr. Mark Huber.
Rather than the Church encouraging his wife to uphold her marriage promises and cooperate with those who are expert at helping couples like them, the Diocese issued a formal letter instructing the wife that there is nothing barring her from filing for divorce. Msgr. Huber did not write the correspondence from the Diocese, but as the Promoter of Justice, it is required for him to intervene in all contentious cases in which the public good may be at stake — as is a case of separation of spouses. The promotor is bound by office to safeguard the public good. (c. 1430 & 1696)
I'm a little hesitant to name the Diocese and the Promoter of Justice in this story, but I've been inspired by Kevin Wells, the author of "The Priests We Need to Save Our Church."  He discusses how, for the first time in the history of civilization, "the traditional family lies victim to the undertow of materialism and relativism." He lists no-fault divorce as one of the disorders that flourishes in society. Regarding the priests' response, Kevin Wells offers some telling reflections.
"[C]ostuming oneself in ignorance in the face of this anti-person onslaught that surrounds families is perhaps as deadly a form of priestly spiritual sloth as the Church has ever experienced. At its best, priests' silence on this apocalyptic complex of sins reveals a crisis of cowardice; at its worst, their willful neglect reflects something ominous" (p. 193).

The husband showed me the correspondence from the Diocese and it said "The Church does not place any blame on either or both parties nor find that either party was more at fault than the other."  This is problematic because all married couples are supposed to live together. To do otherwise gives scandal. Canon law shows that only fault based grounds justify separation: adultery, making it impossible to practice the faith, and "making the common life unduly difficult."  (See Canon Law Category of Bishop's Permission to Divorce). From an expert in canon law, I found this explanation:
Unbearable Cruelty Which Renders Conjugal Life Insupportable [is a ground for temporary separation …] means excessive or unbearable cruelty, harshness, extreme severity, fierceness, and barbarity. What is called cruelty, by way of travesty, in modern divorce courts could not be viewed as
saevitia
, in the sense of canon 1131 §1. Hence, the so-called incompatibility of temperament, divergence of views, and the like would 
not
be considered sufficient to invoke separation" (
source
).
From another well respected source, I found this:
For separation due to physical or moral cruelty to be lawful, the following conditions are necessary:
it must be grave, such that it makes common life dangerous for the spouse or children;
it must be repeated, because if it were merely occasional, it would not create the fear for future common life, which justifies the separation;
and separation must constitute the only means of avoiding the danger involved in common life. (source)

It makes no sense for the Church to give permission to a wife to file for divorce, especially since virtually all divorces are now no-fault divorce. Sr. Lucia of Fatima, and the messages of Our Lady of Good Success in Quito Equador warned about the demise of marriage in our time. In my video plea to Msgr. Huber, I show an excerpt from Sensus Fidelum youtube where the priest teaches that Our Lady of Good Success said, " In this supreme moment of need for the Church about the issue of marriage especially, the one who should speak will fall silent."
Join me in asking Msgr. Huber not to remain silent. Use his parish's contact form HERE, and ask him to look at my Plea to Lincoln Diocese to Uphold Marriage and watch my video.