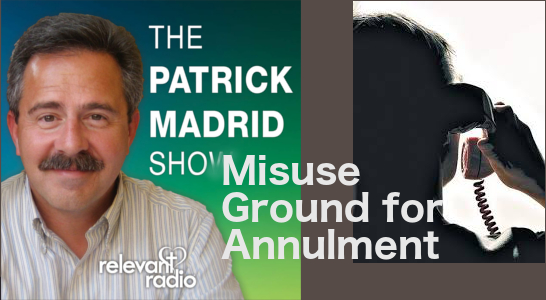 Pat Madrid Discusses Misuse of Grounds for Annulment
Posted by Mary's Advocates
On December 11, 2018
A caller on Catholic Relevant Radio asked Pat Madrid for his suggestion on what to do because the caller knows the basis for annulment used against the caller was incorrect.  An annulment is the common term used for a judgment from a Catholic diocesan tribunal deeming that a marriage never validly occurred. Mary's Advocates' interest in misuse of grounds for annulment is based on the fact that granting annulments for every marriage break-up gives scandal. It eliminates the perception that anyone is ever gravely sinning by reneging on one's marriage promises because no one is obligated to uphold promises when all promises are deemed as invalid.
Excerpt from minute 28, Dec. 11, hour 3. full show here.
The radio-show caller identified himself as Matthew. His wife divorced him after she had an affair. He explained how he reluctantly petitioned his diocesan tribunal because he wanted to know the truth about his marriage.  The tribunal judged his marriage was invalid based on canon 1095.2 against Matthew.  He says he disagrees, in part, because he's never had any diagnosis of a mental health disorder. Both Pope John Paul II and Pope Benedict have said this ground (canon 1095.2), based on psychological problems, was used too much, especially in the United States.
Matthew said this ground being used against him really bothers him because it is not true. When considering whether to appeal, he says he doesn't know if it would make any difference because the annulment rate is so high. Four different priests have told him to just let the decision stand, though Matthew says "the definition of 1095.2 that I was given initially did not say anything about a grave psychological disorder, but then, I'm reading more about it."
Radio host, Patrick Madrid, read canon 1095.2 on air and gave his interpretation. Repeatedly, Madrid said he's not a canon lawyer and he'd be open to being corrected if he was misinterpreting the canon.
Can.  1095 The following are incapable of contracting marriage:
2/ those who suffer from a grave defect of discretion of judgment concerning the essential matrimonial rights and duties mutually to be handed over and accepted
Madrid said that, among the essential matrimonial rights referenced in this canon, the right to sexual intercourse with one's spouse is obvious. A woman who didn't know this, said Madrid, could be marrying invalidly.  Madrid suggested that Matthew write a letter to the tribunal explaining that he understood the marriage duties and wanted to uphold them when marrying: "mutual ownership of the bodies, the sharing of a bed, the living together under the same roof, rearing of children, all the things that go into a marriage."
Staying quiet about something he knows to be false is bothering Mathew, and Madrid suggested that Mathew writing the tribunal might result in the diocesan tribunal saying "That changes everything."  About the procedural requirements, Madrid said he doesn't know because he's not a canon lawyer. Madrid has taught Sacramental Theology at a college level and Madrid said he recognized that sexual intercourse is a right and duty of marriage. Though not mentioned on air, Madrid wrote the forward to the book Divorced Catholic Now What? that says it answers the question "what is an annulment."
I encourage Patrick Madrid
I encourage Patrick Madrid to add a couple readings about canon 1095.2 in any future courses he teaches on Sacramental Theology.
Saint Pope John Paul II in his 1987 Address to the Roman Rota said (as Matthew knew) that canon 1095.2 is only applicable to those who suffer a grave psychological anomaly.
Cardinal Edward Egan, one of the editors of the reorganized 1983 Code of canon law, teaches that  canon 1095.2 is only applicable to the essential matrimonial rights and duties, not forming some type of interpersonal relationship that achieves an unidentified level of satisfaction; see Nullity of Marriage for Reason of Insanity or Lack of Due Discretion of Judgment.
Colorado Springs priest, Fr. Jaimes Ponce, J.C.D.,  did his canon law dissertation comparing U.S. tribunal decisions to Roman Rota, Lack of Internal Freedom on Matrimonial Consent: An Analysis of Rotal Jurisprudence and American Decisions. He found "most of the decisions being based on grave lack of discretion of judgment, c. 1095."
Robert Vasoli, University of Notre Dame sociology professor, with specializing in criminology, is the author of What God Has Joined Together: The Annulment Crisis in American Catholicism. He emphasizes, "Rome has not smiled on the performance of the U.S. tribunals: of those psychological annulments appealed to the Roman Rota" […] "more than 90% are overturned."
When Madrid discussed marriage duties, he referenced "all the things that go into a marriage." Listeners need to make the distinctions between duties that are essential to marriage (such that their absence would make a marriage invalid) and duties that are good. For example, being honest with one's spouse is a duty, but lying about one's natural hair color is breaking the eighth commandment, not a ground for invalidating a marriage.
Essential matrimonial duties of marriage are 1) permanence, 2) openness to children, 3) sexual fidelity, and 4) being orientated toward the good of the spouses (a.k.a. mutual help). See canon 1055 and 1056. Cardinal Raymond Burke taught about mutual help in his presentation So-Called New Grounds of Nullity.  Appeals cases from the Tribunal of the Roman Rota are guides to tribunals throughout the world. A 1992 case teaches about the abuses in canon 1095.2.
[I]t is an abuse if cases are admitted to hearing which are certainly groundless. Concretely, in cases brought under c. 1095, unless the allegations brought forward give some grounds to consider that one may be dealing with a grave defect of discretion regarding some essential right/obligation of marriage (c. 1095, 2§), which moreover would point to some serious psychic anomaly, present at consent, and not just to slight or moderate pathologies or simple defects of character (Source Roman Rota, coram Burke Oct. 15, 1992 Dublin)
While Madrid was correct that a sheltered young woman being ignorant about sexual intercourse is a ground for nullity, it is not relevant to canon 1095.2. Instead, canon 1096 §1 is applicable. "For matrimonial consent to exist, the contracting parties must be at least not ignorant that marriage is" […] "ordered to the procreation of offspring by means of some sexual cooperation."
The best resource I've seen for a trustworthy presentation on grounds for annulment is the 2015 book published by Ignatius Press, When Is Marriage Null? Guide to the Grounds of Matrimonial Nullity for Pastors, Counselors, and Lay Faithful.  Saint Pope John Paul II  in 1990 said "A valid marriage, even one marked by serious difficulties, could not be considered invalid without doing violence to the truth and undermining thereby the only solid foundation which can support personal, marital, and social life."
Mary's Advocates helps parties in nullity cases uphold their procedural rights. See Research > Catholic Annulment, or write Bai Macfarlane at [email protected].