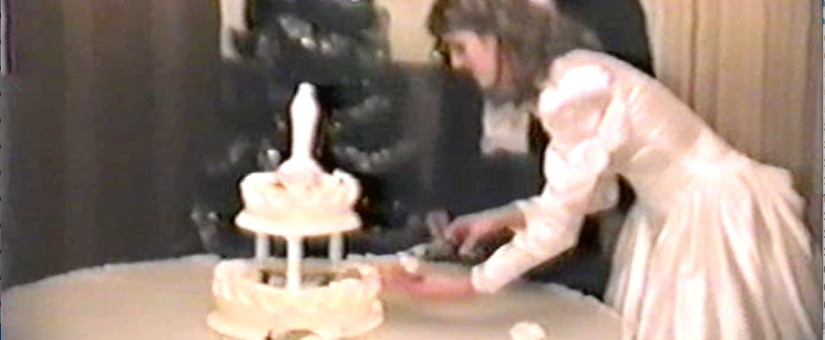 My 27th Anniversary (1990 to 2017)
Posted by Mary's Advocates
On December 8, 2017
(by Bai Macfarlane)
December 8th is always special for me. Besides being the Feast of the Immaculate Conception, it is my wedding anniversary.  My husband and I both had a devotion to our Lady, and had consecrated ourselves to her immaculate heart in 1983 on December 8th, as founding members of the University of Notre Dame's Militia of the Immaculata club. We married in 1990 on the same date.
Rather than topping our wedding cake with little figurines of a bride and groom, we topped it with a statute of our Lady.
In 2003, my husband chose to separate from me and filed for a civil no-fault divorce.  Shortly thereafter, I started an e-mail group to support those like myself, and I've been blessed to meet wonderful souls.  In honor of my 27th anniversary, I'm sharing with my readers a post by a woman who just commemorated her anniversary too.
On My Wedding Anniversary
Posted by K' (anonymous) on Mary's Advocate "Defending Marriage" e-mail group
32 years ago I said, "Yes."
I said "Yes" before God, in the church, with my full consent and sound mind. No little piece of paper issued by a judge can change my mind. Or my heart.
November 30, 2017, I will celebrate God's grace which brought together my husband, Thomas, and me, in marriage. Today, despite a little piece of paper that says "divorced," I choose to remain faithful to my vows, "till death."
True love never fails.
It bears all, believes all, hopes all.
I choose to believe the words of Jesus in scripture (Matthew 19:31, 32; Mark 10:11). His teachings may be "hard," but his grace is sufficient.
I believe in the Catholic teaching on the "indissolubility of marriage" Do not lecture me about "annulments." I have studied the Catechism, scripture, Tradition, and encyclicals of the Magesterium. I don't need, nor want, an annulment. I know that there was no marital impediment that could ever make my marriage "invalid." It was–and it is–valid. It meets all criteria.
Do not pity me.
Jesus said, "Take up my Cross and follow me."
Obedience brings a joy beyond measure, a joy that rivals the temporal happiness of those who have left their spouses in order to "remarry."
Faithfulness brings with it the reward of peace. Faithfulness ignites joy. Faithfulness is a gift from God. I grow in faithfulness every day.
I celebrate my marriage vows, and pray for God's continued grace and strength. I pray for my husband. I pray for our children.
And I pray for anyone who is the victim of the divorce.
(as a footnote, let me say that I am keenly aware that there are cases when separation and divorce are the only option; even the Catechism acknowledges as much, as does Jesus, and later the Apostle Paul. However, we must be careful about how we apply those words, and study deeply the theologians' treatises and exhortations which unravel those passages. We must pray and seek sound counsel and be patient and wait before we leap into that terrible world of divorce. For those considering divorce, who are not in an extreme case as described above, please think about your children. If you find it hard to love your spouse, at least love your children enough to give them their rightful parents…when they graduate, get married, have children, grow old. Be a model of faithfulness for them. Ask God to give you the love in your heart for them–and your spouse–the kind of divine love that bears all, believes all, hopes all).
Follow the path of love.