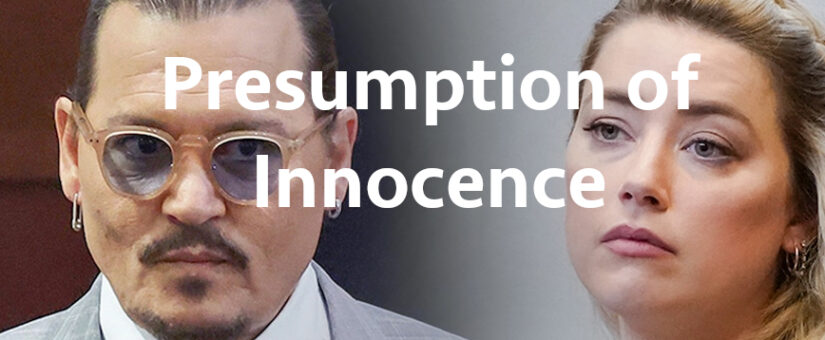 Liars in Wait: Johnny Depp Trial Proves Cannot Ignore the Presumption of Innocence
Posted by Mary's Advocates
On June 16, 2022
Johnny Depp Trial Proves that Society Cannot Afford to Ignore the Presumption of Innocence
by Gerard J. Garno (guest contributor)
Attorney at Law
In the trial of Johnny Depp v Amber Heard, his ex-wife Amber Heard accused Johnny of hitting her, sexually assaulting her, and engaging in repeated acts of physical violence.  In contrast, Johnny said he never hit her at all (or any woman) and none of those things ever happened.  Hence, ONE SIDE WAS LYING – both could not be telling the truth.  Who is the liar?
The jury saw the evidence: For example, Heard said she gave all her divorce settlement to charity, proven false (she kept most of the money); that she covered repeated and multiple bruises with a certain make-up, shown to be false (the company said it didn't make the cosmetic until years thereafter), that she was sexually abused with a broken bottle, shown to be false (there are pictures of the bottle after the alleged incident showing it not broken and even having liquid still in it); that he beat her and she had bruises so that she needed a restraining order (the bruises shown to be false "painted on" bruises), the alleged physical abuse and "violence" shown to be false by the couple's own employees, etc., etc.,
Therefore, after days of evidence showing that what she was saying was not true, the jury ruled against her and granted Johnny Depp's defamation claims, on every count, for millions of dollars, INCLUDING punitive damages (finding she knew what she said was false, and uttered these falsehoods with actual malice).
Still, Amber Heard remains resolute in her falsehoods.  This week she spoke with NBC News' Savannah Guthrie, on "Today", doubling down on her claims of innocence and responding to many of the statements made about her during her trial against former husband Johnny Depp.   Asked by Guthrie about the truth of her words in court, Heard said: "To my dying day, I'll stand by every word of my testimony." Moreover, she continued to call Depp "an abuser".  When Guthrie asked about Depp's denial that he never hit her, and if that statement was a lie, Heard said, "Yes, it is."
There is only one problem for Amber Heard: the EVIDENCE showed, in a judicial legal process with Johnny given the "right of defense", that what she was saying was false.  Juries don't just make up a verdict – they carefully weigh the evidence under the guidance of the judge.  Also, voluminous reasonable persons (including lawyers) watching the trial, which included most persons in the world that commented, concluded that she was lying.
In the end what this trial proves is that: the oft-repeated stories of women, especially in the "#MeToo" crowd, are not true unless proven, and even when proven false the liars will continue to repeat the lies.  Hence, this all points to the wisdom of the time-honored principle which has served the legal profession well: "Innocent until PROVEN guilty."  This presumption is a bedrock of Western legal jurisprudence, and is based on the belief that: "It is better that ten guilty persons escape than that one innocent person be convicted."  It was first expressed by English jurist William Blackstone in his seminal: "Commentaries on the Law of England" (1760).  It is generally used in criminal cases, but is very apropos in the myriad "accusing women" cases of the "#MeToo" movement and the modern world.
Thus, any allegations of women against men, as shown by Amber Heard, are nothing more than allegations; they prove nothing and should never be taken as proof.  To do so would endanger the lives of many innocent people, including husbands and children, who would suffer due to the false testimony.  In short, society cannot afford to ignore the presumption of innocence – even when the accuser is an emotionally appealing and/or apparently credible woman.