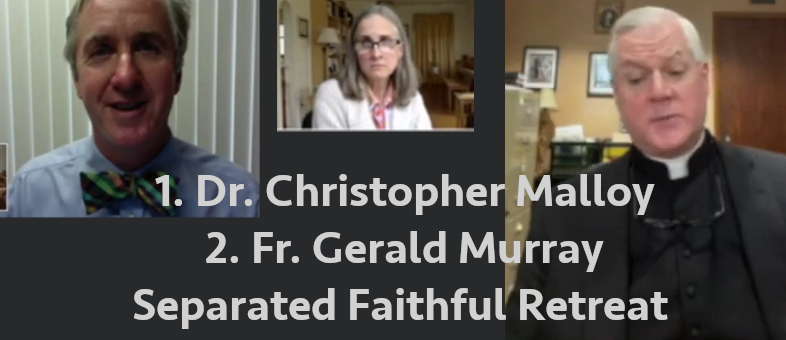 1-2. Separated Faithful Retreat
Posted by Mary's Advocates
On June 9, 2022
Separated Faithful joined for a retreat on June 4 &5 in which pre-recorded talks were given. All talks are in playlist on Mary's Advocates YouTube channel.
1. Dr. Christopher Malloy, Systematic Theology Professor
Dr. Malloy is a convert to Catholicism and teaches at University of Dallas.
Highlights noted by retreat attendees:
Marriage is God's institution. God created the bond of marriage, not men. We propose ourselves for marraige.
The institution of marraige is stronger than us.
Before any state or government, marriage was already established. Marriage was first.
Freedom: we exaggerate freedom as if one has to be 100.00% committed; but with proper freedom, we can make promises.
The nature of a thing is its essence; love can develop in marraige, but love is not marraige' essence.
The essence of marriage is about the marital bond and is not about happiness but it is about the covenant and commitment.
Offering up one's suffering due to experiencing and injustice makes us a conduit for God's grace.
Doing good and enduring evil is powerful and effective – it is born out of love.
Conscious does bind and one is doing nothing wrong by living as if affirmative annulment sentence is incorrect.
2. Fr. Gerald Murray, Canon Lawyer, EWTN personality
Fr. Murray is an ETWN personality and author of 2022 book "Calming the Storm: Navigating the Crises Facing the Catholic Church and Society."
Highlights noted by retreat attendees:
No-fault divorce eliminated the onerous consequences of breaking one's marriage promises
When faced with injustice, one must both accept it, and fight against it.
You must accept the injustice of no-fault divorce and fight against it.
One must avoid becoming a bitter spirit and rebelling against divine providence
Marriage is not ended by mutual agreements.
Avoid the sin of adultery
Marriage includes the obligation to live with one's spouse for life
Be a witness to the vows (if abandoned)
Marriage is not breakable by the desire of either spouse.
One has unanswered prayers because the other party has free will; one should leave it up to God's providence.
Fr. Murry is author of "Calming the Storm" book about the crisis in the Church.
Catholic marriage gives sacramental form and grace where the vows are for life – promoting common good for each other & in raising children.
Divorce does not end a marriage.
The obligation of cohabitation needs to be fulfilled. Obligations of marriage are being fulfilled by the abandoned party when he/she stays faithful.
Injustices: how do you deal with them? Sometimes accept them, but don't have to remain silent. Jesus and the Saints suffered injustices.
Pressures – to "move on." Pray but leave it up to God for reconciliation.