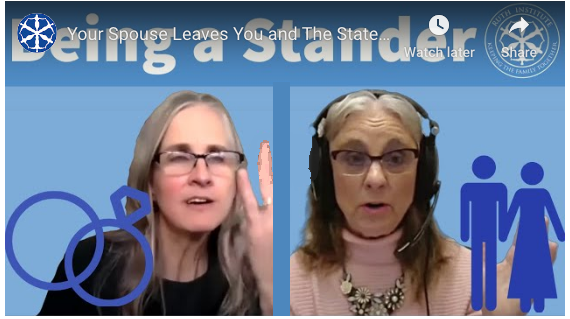 Jennifer Roback Morse, Ruth Institute, interviews Bai Macfarlane
Posted by Mary's Advocates
On December 5, 2020
Jennifer Roback Morse is the author of "The Sexual State" and founder of the Ruth Institute which publicizes the devastation resultant from the sexual revolution.  She understands the injustice of no-fault divorce. We discussed the civil state's destruction of marriage and the impossibility of a divorce defendant stopping a divorce.
Jennifer appreciates Mary's Advocates' ability to assist someone defending their marriage against an accusation of invalidity in a Catholic tribunal.  After I gave examples of procedural violations of rights in marriage nullity cases, Jennifer says she knows, personally, a woman who upheld the validity of her marriage with our help. She believes that errors of the godless anti-family, anti-marriage culture has infected the Church.
We discussed the heart of standers who know they are still married regardless of being divorced. Separated faithful wear our rings, have supernatural hope of reconciliation, and don't use the phrase "ex-spouse."  Jennifer asked me how Mary's Advocates support separated faithful and she underlines the spiritual significance of standers offering up our suffering. If she was the director of a diocesan marriage and family office, Jennifer says she would start a standers group.
Video below published HERE on Ruth Institute's YouTube Channel