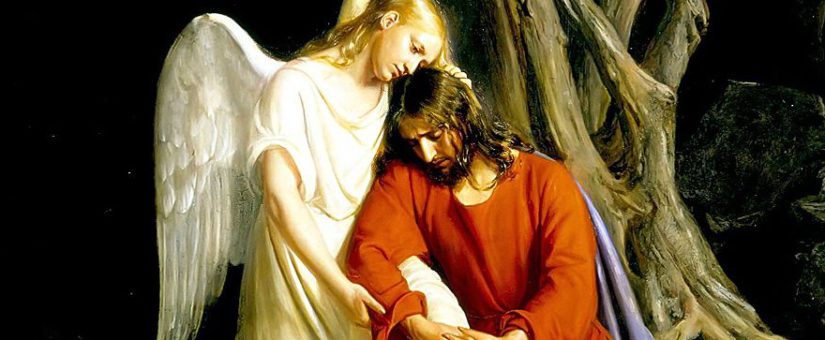 Gesthemane for the Reluctantly Divorced
Posted by Mary's Advocates
On March 25, 2018
posted by Bai Macfarlane, Palm Sunday, March 25, 2018
With the non-profit organization Mary's Advocates, I work to reduce unilateral no-fault divorce and support those who are unjustly abandoned.  This past week, I corresponded with a friend who works in Catholic higher education. I'm sharing his message.
Some of us are called to imitate this love as it was lived in Gesthemane.
Dear Bai,
Have great faith! Married love naturally pulls us out of ourselves, to make a more complete gift of ourselves to the other. Giving to the other when the other does not seem to wish to receive is a true Cross, but also a tremendous means of glorifying God, strengthening the reality of the bond between spouses, witnessing to our children, building the Church, and consoling the Lord.
This life is so short, that it is not worth counting the cost of such a sacrifice against the joy to be gained in heaven. Your generous gift to God, to your husband, and to your children is something that He will not allow to be without fruit, because He will not allow you to be more generous that He is. It is a mystery, how true love between spouses is the same as the Love of Christ for the Church. It is the mystery of the Cross, and it is a mystery that you have been called to live at a level that includes, and transcends, the immediate good of your own family. God is love. Stay faithful to God, and there will always be an intense love at the heart of your marriage.
Some of us are called to imitate this love as it was lived in Gesthemane. It is still the love of Christ for His Church. It is still authentic married love.
He who has begun the good work in you will carry it through to perfection. He is the One who sustains and consoles all of us. In all eternity, we will all praise and thank Him for each and every difficulty that He has sent to us, and we will all be grateful to each other for the crosses we have borne in our own lives, and which have sustained us, and those around us, in ways that will only be known to us then.
… I hope we can run into each other sometime soon. I'll say my rosary for you today.
All the best,
[from Bai's friend who works in Catholic higher education]