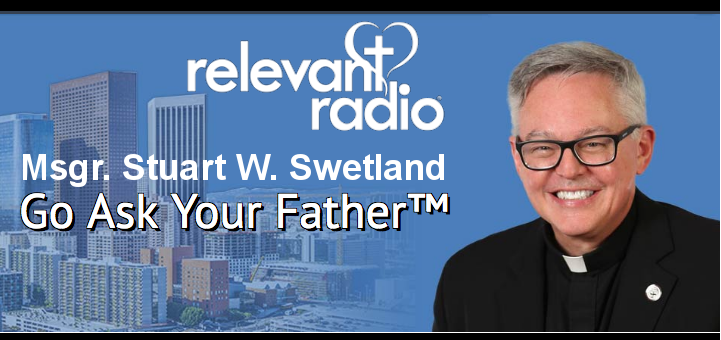 Emotional Abuse is not basis for "Getting Out of Marriage"
Posted by Mary's Advocates
On March 4, 2018
A caller who says she's in an emotionally abusive marriage wanted to know "if she is required to stay in that marriage."
Father explains that, in some circumstances, a legal separation is justified.
From Feb. 15, 2018. Find full program HERE
Msgr. Stuart W. Swetland is the host of Relevant Radio's program, "Go Ask Your Father." He currently serves as the seventh President of Donnelly College in Kansas City, KS, where he is also Professor of Leadership and Christian Ethics.
On air, he pointed out that God's plan for the woman may be to stay with her husband, and be an instrument for conversion. St. Monica converted both her husband and her mother-in-law.
Msgr. Swetland clarified that even if the woman separated, she would not be "getting out of her marriage." She would still be married, and still have the duties of marriage to one another.
Fr. encouraged the woman to find good spiritual guidance from someone who knows her situation and knows the Church's teaching.
Mary's Advocates comment:
We support those who are unjustly abandoned.
"Emotional abuses" is an excuse used by some to assert a self-proclaimed right to force a no-fault divorce on the spouse who wants to keep the family together. I'm thrilled the Msgr. Swetland told the woman that she has to get good spiritual direction and counseling.
Any good counselor, I believe, would want to speak to both spouses. If a perpetrator really was so horrible that separation was justified, a good-hearted aggrieved party would want to cooperate with experts who can teach the perpetrator new communication techniques that would improve their marriage. A good-hearted aggrieved party would not want permanent separation as is arranged in the civil courts.