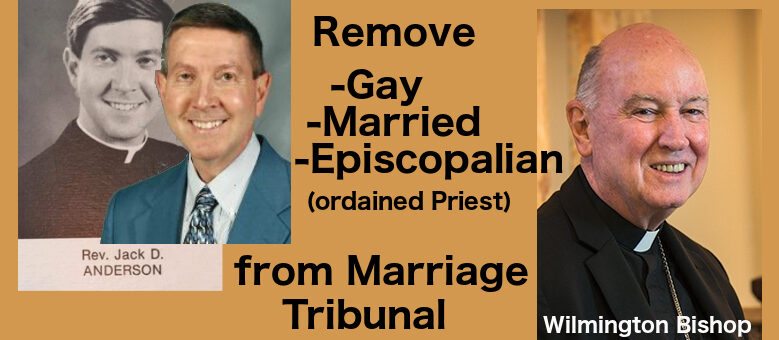 Gay Married Priest is not suited to Defend the Bond of Marriage
Posted by Mary's Advocates
On September 16, 2019
Mary's Advocates is asking you to join our complaint about Jack Anderson, a homosexual priest who is serving in the Tribunal of the Diocese of Wilmington, Delaware. Anderson has a doctorate in canon law and is listed as a Defender of the Bond of marriage for the Wilmington Tribunal (see list HERE, and July 2018 archive). The American Spectator yesterday publish an article by George Neumayr in which he quotes Anderson's gay spouse who said, Anderson left the Catholic Faith and is now an Episcopalian. If someone rejects Church teaching on morality regarding homosexual behavior, it is unfathomable that he could be trusted to defend Church teaching on morality for heterosexual behavior.
Married gay priest, should not be Defender of the Bond
Update September 17:  George Neumyaer announced that Jack Anderson resigned as the Defender of the Bond.
Well, that was easy. Jack Anderson finally returned my call, informing me that he has resigned his position as defender of the bond in the diocese of Wilmington, "effective immediately." https://t.co/RHGjrstTJp

— George Neumayr (@george_neumayr) September 17, 2019
Join our Plea
To join our plea, provide you name, e-mail address and diocese. If the Wilmington Bishop does not respond to my complaint below, I'll ask you to send me a paper letter with your signature mandating me to be your procurator. Our whole group can complain and continue up the chain of authority to the Holy See about this scandal.
Mary's Advocates Open Letter to Bishop Malooly of Wilmington Diocese
September 16, 2019
The Most Reverend  W. Francis Malooly, D.D.
Bishop of Diocese of Wilmington
1925 Delaware Avenue
Wilmington, DE 19806
Your Excellency,
I bring to your attention a scandal occurring in your diocese. Please remove Jack Anderson as the Defender of the Bond in your Tribunal and do not allow him to be a judge, auditor, Promoter of Justice, procurator, or advocate. Jack Anderson is publicly known to have renounced his Catholic faith; as reported by George Neumayr, Anderson's gay spouse says Anderson is an Episcopalian. Neumayr reports that the gay spouse said Anderson has not been laicized. Anderson works at the Episcopal Church of the Holy Spirit in Harleysville, PA.
The ministers of the canonical Tribunal must be of good repute, and conspicuous for their good conduct (See c. 1421 §3, 1428 § 2, 1435, and 1483). As an Episcopalian who has a gay spouse, Anderson appears to have obstinately denied or doubted truths which must be believed by divine and catholic faith.
To repair harm done to the public good, pursuant to canon 1336 §1, 2o, I ask that you invoke the penalty of privation, restricting Anderson from exercising any named functions in the Tribunal for an indeterminate period of time, until he publicly reaffirms his Catholic faith and adherence the teaching our faith and morals, especially our teaching on homosexual so-called marriage. If Anderson has not been laicized, will you please attend to this matter also. It is a scandal for a Catholic priest to be a gay, married, Episcopalian.
Sincerely Yours in Christ,
Bai Macfarlane
---
Canon 1421 §3:  Judges are to be of good repute, and possess a doctorate, or at least a licentiate, in canon law.
Canon 1428 § 2: The Bishop can approve clerics or lay persons for the role of auditor. They are to be persons conspicuous for their good conduct, prudence and learning.
Canon 1435. It is the Bishop's responsibility to appoint the promotor of justice and defender of the bond. They are to be clerics or lay persons of good repute, with a doctorate or a licentiate in canon law, and of proven prudence and zeal for justice.
Can. 1483 The procurator and advocate must have attained their majority and be of good repute. The advocate is also to be a catholic unless the diocesan Bishop permits otherwise, a doctor in canon law or otherwise well qualified, and approved by the same Bishop.
Can. 751 Heresy is the obstinate denial or doubt, after baptism, of a truth which must be believed by divine and catholic faith. Apostasy is the total repudiation of the christian faith. …
Can. 1336 §1 Expiatory penalties can affect the offender either forever or for a determinate or an indeterminate period. Apart from others which the law may perhaps establish, these penalties are as follows:" […] "2° deprivation of power, office, function, right, privilege, faculty, favour, title or insignia, even of a merely honorary nature.
Can. 1364. — §1 An apostate from the faith, a heretic or a schismatic incurs a latae sententiae excommunication, without prejudice to the provision of Can. 194 §1, n. 2; a cleric, moreover, may be punished with the penalties mentioned in Can. 1336 §1, nn. 1, 2 and 3. — §2 If a longstanding contempt or the gravity of scandal calls for it, other penalties may be added, not excluding dismissal from the clerical state.