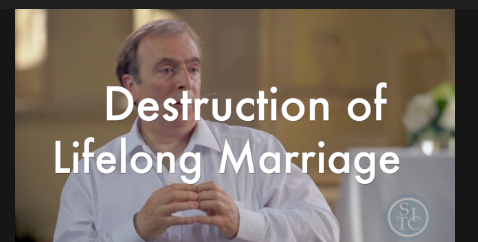 Fundamental Revolution – No Fault Divorce, Peter Hitchens
Posted by Mary's Advocates
On October 10, 2019
Peter Hitchens, the author of "The Rage Against God" says the fundamental revolution that destroyed both the English and US societies was unilateral no-fault divorce.
Until the divorce laws of the 1960's, marriage was an agreement entered by two people. After the divorce laws of the 1960's it was extraordinarily easy to get out of a marriage. If one party wanted out, that party could get the state to drag the other party out of the house … and divide up the property and children in favor of the person who initiated the break-up of the marriage. This type of government interference was unprecedented in a free society.
Excerpt from 48 min. 30 sec. Full Jan 5, 2016 interview HERE.
"Rage Against God" is partly autobiographical, partly historical. Hitchens assails several of the favorite arguments of the anti-God battalions and makes the case against fashionable (source).   Interviewer, Eric Metaxas, an American radio host, speaker, and author of "Amazing Grace, William Wilberforce and the Heroic Campaign to End Slavery"