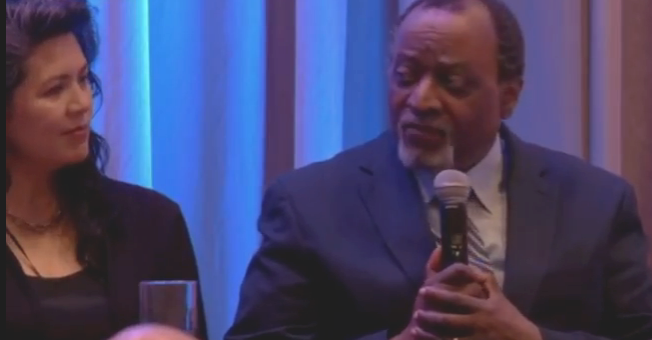 Dr. Alan Keyes, about Bishops – We Are Obligated to Cry Out
Posted by Mary's Advocates
On June 11, 2018
by Bai Macfarlane
During the Q & A panel at Saturday's conference on marriage, the panel was answering a question about why recent Popes have not removed bishops who give scandal.  Christine Niles and Dr. Alan Keyes' responses resonated with me because Mary's Advocates' resources give abandoned spouses a way to do that which both Christine and Dr. Keyes recommended.
Christine says that complaining on social media alone doesn't accomplish much.  We need to inform our priests and bishops of our concerns in a respectful way.  But, in the end of the day, "It is not within our power to change the hierarchy."  We are responsible to help save the souls of the people who are within our own orbit. God is not going to ask us which bishop we converted.
For an abandoned spouse, our orbit includes our prodigal spouse who has swallowed the poison spread by scandalous diocesan personnel, divorce lawyers, and secular peers. We, as much as God allows, can try to evangelize our prodigal spouse; we believe we can have a healthy marriage if the abandoner would just cooperate with the right kind of help.  Instead, the abandoners are being fed the lie that the solution to unsettledness in marriage is no-fault divorce. Then, in the diocesan tribunals that are part of the annulment scandal, abandoning spouses are fed the lie that one or both parties were never capable of marriage in the first place.  Rather than being advised to grow in virtue, and being lead to the font of grace, they are being told your marriage is damaged goods and was from the beginning (i.e. your marriage is invalid).
When Christine Niles said we are responsible for those in our orbit, I'm reminded that our orbit includes our children, who see by our every-day silent choice to remain faithful to marriage, that marriage is indissoluble, and does not end with abandonment, unilateral separation, and no-fault divorce. Just as Jesus remained faithful to his people who betrayed him, faithful spouses remain faithful.
Dr. Alan Keyes believes that "A lot of the hierarchy are deathly afraid that people are just going to stand up and say obvious stuff. You tell us to do THIS and then you DO THAT." […] "Have you ever been embarrassed by your child because they catch you doing something you told them not to do?" We need to be like that with bishops.
The bishops are not going to have that moment unless the children (that's us) confront them with it, embarrass their hearts, and lead the ones who are still susceptible to repent of the scandal they have given and turn back to God." … "You get to cry out. If our babies don't cry, we don't tend to them. If our children don't cry, we don't rush to help them. We must cry out: first to God, and then to those who profess to serve him. And we should not be afraid to ask of them, what we ask of Him, which is to come speedily and aid us.

Dr. Keyes strongly criticized the leadership that is sowing confusion and he says we are obligated to cry out to them demanding that the confusion be cleared up.  This resonates with me because, in my work with abandoned spouses, I meet grown men who were curled racked on the floor wailing at the pain of having their children stolen from them by no-fault divorce government agents at the request of a professed-catholic abandoning spouse. I hear their dismay about the priests or chancery officials that have told the abandoning spouse that the Church has no concern about divorce because divorce "only handles the civil effects of marriage." One husband learned that a tribunal judge's advice to his abandoning wife was she could do whatever she wants.
Mary's Advocates teaches abandoned spouses how to cry out to the Church leadership demanding that the confusing be cleared up on a case-by-case basis, one marriage at a time. We want abandoning spouses to be instructed of their obligations and the misinformation spread by diocesan personnel about divorce to stop. We show an abandoned spouse how to use canon law to ask the something be done about it.
Mary's Advocates was an exhibitor at conference in Detroit on June 9, 2018.  "Marriage Under Attack 50 Years After Humanae Vitae" organized by Church Militant.  See full video of conference here