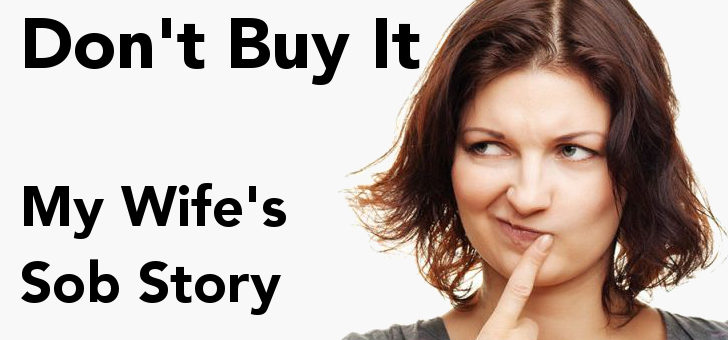 Don't Buy It – My wife's sob story that I'm a domestic abuser
Posted by Mary's Advocates
On August 9, 2018
(by Bai Macfarlane: Though I'm the author of this blog, it is not about me. I wrote it from the perspective of the abandoned husbands with whom I've corresponded over the years.)
My wife is trying to gain sympathy from others by lamenting that she's a victim of domestic abuse. I want the truth to be known.
She'll moan that the situation is so grave that the court issued an order of protection that keeps me away from our children and her.  I'm guilty of horrific crimes that are too troubling to even discuss, according to my wife, and moreover, she wants everyone to know that I'm being punished by the court.
Her listeners do not know that the existence of a court order of protection (OFP) has nothing to do with whether, or not, I ever caused bodily harm to my wife or children; it has nothing to do with whether I ever attempted to cause them bodily harm, or whether I committed acts by which I intended to make them fear that I was going to cause them immediate bodily harm.  Nope!
If my wife was sincerely interested in upholding her marriage promises, and she thought I was behaving abusively, she would do everything in her power to get me the right kind of help. She'd be pleading with me to cooperate with experts who successfully help violent clients manage themselves appropriately, meet with a good priest or pro-marriage family counselor, or participate in Retrouvaille. Amidst her efforts to get me the right kind of help, there might be a hospital record or police report of a couple times when I caused her bodily harm. But there is no record of any of that, because my wife is not sincere. She's simply abandoning our marriage.
Across the U.S.A., the states' laws make it easy for women to have their husbands kicked out of the marital home, thereafter to coercively take from the husband his children and property in no-fault divorce/separation.
Consider, for examples Minnesota laws. There are two kinds of courts that have trials about domestic violence: divorce court (a.k.a. domestic relations), and criminal court.  In criminal court, my constitutional right to due process are upheld – or at least, court rules exist to ensure my rights are upheld. I am presumed innocent until proven guilty, and have a right to a trial where a judge or jury hear evidence and have to weigh my actions and intentions.  By definition, criminal laws shows one is guilty of domestic assault, if he "commits an act with intent to cause fear in another of immediate bodily harm or death; or intentionally inflicts or attempts to inflict bodily harm upon another." (MN Minn. Stat. § 609.2242).
However, in domestic relations court, my fundamental liberties and due process rights are not upheld. A judge/magistrate/referee will issue an order kicking me out of my home if my wife says "I'm afraid he's going to hurt me, and he inflicted this fear on me."  Did you notice the difference? In criminal trials, the court and jury are judging my actions and intentions based on evidence; but in domestic relations, the court is judging whether my wife "feels fear" after some, any, or virtually no, action of mine.  By definition, Minnesota domestic relations law shows domestic abuse occurred if the following was committed: "physical harm, bodily injury, or assault; [or] the infliction of fear of imminent physical harm, bodily injury, or assault" (MN Minn. Stat. § 518B.01).  The absence of violence, absence of physical harm, the absence of the intention of causing harm, and absence of intentionally causing fear is no reason for the court to decline a petition for a protective order in domestic relations court.
There is a reason that intelligent husbands switch from lawyer, to lawyer, to lawyer in domestic court cases, trying to find someone to actually defend his rights.   Even though a husband and wife are opposing parties with two different lawyers, I found that the lawyers collude together to manage us, so they make money doing the simplest work that is least demanding: that is, passing paperwork back and forth.
For example, shortly after my wife abandoned our marital home and took the children too, she filed in domestic court for an order of protection asking that I be kicked out of our home. The state sheriff showed up and made me leave.  Shortly thereafter, my first lawyer directed me by her typical methods including the following:
made it very clear to me that I had to sign "an agreed" order for protection that showed we never had a trial and there was no finding that I committed any abuse;
gave me unequivocal instructions that I had to sign an agreed order for protection, giving my wife custody of our children, keeping me out of the family home and away from our children;
told me that we'd have a custody battle as part of my wife's petition for legal separation;
told me that I'd see my children in three weeks.
I've not seen my children in four months, and there's been no meetings about any custody battle yet, and I recently fired my second lawyer.
Maybe the first lawyer knew that it would be an exercise in futility to try to put up a defense in a formal court trial against domestic abuse in our local court. Maybe no one has ever been victorious in defending themselves because our local judges, in 100% of the cases, always decide against the accused when a wife give testimony saying "I feel afraid that he might harm me."
Amongst those knowledgeable about family court, It is well known that domestic relations courts will issue protective orders against a non-violent, non-dangerous husband, kicking him out of his own home, and restricting him from being near his children and wife. Accusations of abuse and petitions for protective orders are common in domestic court whenever custody or property rights are in the balance.
Minnesota family lawyer, Eric Nelson, writes: "An Order for Protection is a cheap, quick, and easy way to obtain temporary custody, child support, spousal maintenance, and possession of the house and everything in it. It is a crippling blow to the recipient, who must quickly deal with the immediate issue of finding a place to live and not having access to his or her home, while the accuser is comfortably moving on to further stages of the custody battle." (source).
Another attorney, John MacDonald from Rhode Island, says " 32 states laws don't require any physical assault. Someone can receive a protective order for feeling afraid, apprehensive or experiencing emotional distress." […] "False allegations of domestic violence occur at a high frequency in divorce proceedings. Some people even use this type of tactic as a tool in child custody battles. 25% of all divorces include allegations of domestic violence. The courts in 48 states must consider these allegations while making rulings in child custody hearings. Protection orders are clearly meant to offer protection in serious situations. Now, they have been turned into a weapon in divorce cases. This system is ripe for abuse, and something needs to change" (source)
Stephen Baskerville, a political science professor and author exposes the takeover of government discipline systems by ideologues who incarcerate, criminalize, and financially penalize innocent people.  Ave Marie Radio host, Deal Hudson, asked Baskerville about injustices described in Baskerville's book "The New Politics of Sex" (Sept. 2, 2017 interview here).
(12:20 m:s) "Parents, for example accused of child abuse–they don't usually go to jail, so the courts claim that this does not require due process of law. But, they can have their children taken away very easily. For most parents, losing your children is far more serious that going to jail."

Baskerville is known for publicizing the injustice of no-fault divorce and he sees the new politics of sex as an even bigger problem.  The divorce system is oriented toward breaking up and taking over families, at the request of the party who wants out (like my wife.)  On the Radio interview, Baskerville explains:
(23:01 m:s) "Once you remove the father, then you've given the government an e
ntrée carte blanche
to basically enter the family, and substitute for the father. The state becomes the provider. The state becomes the protector. Once the father is removed, then there is no real limit on how many social workers or judges or lawyers can move in and take control of the family, especially the children.
"So it is the first step. In divorce court, the first step is always the removal of the father. And then the burden of proof is on him to prove why he should get his children back. There is no burden of proof on the courts to demonstrate, and justify why they removed the father in the first place." […] "It's not necessary that he commit any legal infraction—either criminal or civil. As soon as she files for divorce, he is removed from the home" (Baskerville interview here).

Those who have no concept of the indissolubility of marriage can't fathom why any wife should be obligated to work on strengthening her marriage or reconciling if she has negative feelings about marriage.  In the domestic relations courts, the person who wants to renege on marriage promises is aided by the state to have husbands (like me) removed from the family home.
My goal is for those who only hear my wife's narrative, to know the truth about protective orders.  I am not a danger to my wife or children and never have been. In domestic relations court, longstanding protective orders are routinely issued against harmless husbands who have done nothing grave morally justifying the separation of spouses.  In Baskerville's interview, he explained how the Federal government financially incentives states to process multitudes of divorces. Follow the money!
(36:08 m:s) "This is absolutely diabolical." […] "The child support system was created ostensibly to force men who had abandoned their offspring to take financial responsibility for the children that they had sired, and then abandoned. This makes sense." […] "Instead, it has been perverted into a system that actually creates fatherless homes and forces fathers away from their children. In other words, fathers are perfectly willing to raise their children, support their children, give moral and parental guidance to their children—they are forcibly separated from their children so that the state can collect child support. In other words, the state collects child support. Often times they can use the child support to fill their own coffers if the mother is getting welfare money. It simply reimburses it; it doesn't go to the children; it goes to the state. They also can collect Federal money from each child support dollar they collect. It's complicated, but it gives the state governments a financial incentive to create as much divorce and as many single parent homes and as many fatherless children as possible" (Baskerville interview
here
).  
Endnote:  Mary's Advocates goal is to reduce unilateral no-fault divorce and support those who are unjustly abandoned.  The occurrence is my article are common amongst those who are unjustly abandoned. For those who have a legitimate basis for separation of spouses, due to violence, there is another whole set of injustices that occur because of no-fault divorce.