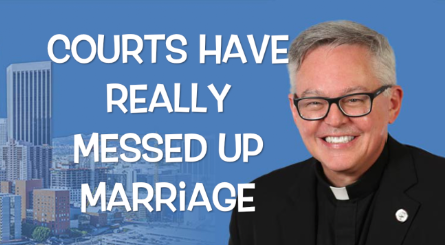 Divorce Laws are Highly Problematic – Radio Monsignor
Posted by Mary's Advocates
On June 20, 2018
On Relevant Radio's "Go Ask Your Father," Monsignor Stuart Swetland fielded a question on June 14 from a caller who wanted him to point out that divorce need not be a sin.
She read one sentence from paragraph 2383 in the Catechism; however she omitted the preceding sentence, which specifies by its note that canon law is required to be implemented in these cases (canon 1151-1155).  The canons do not stand alone either, and must be implemented in according to the procedural norms in canon 1692. Separation of spouses leading to divorce is not a private matter for which a party is supposed to be her own judge. That judgement is reserved to the bishop only, or his mandated delegate who manages separation cases.
In his answer, Msgr. Swetland, slammed no-fault divorce (even thinking it was worse than he said, but he had to be diplomatic for radio).
"In our current situation in the United States, I highly recommend that we don't go to the courts because the courts have really messed up marriage law in the United States. The so-called no-fault divorce laws are highly, highly, highly problematic, to say the least. I'm trying to be as diplomatic as I can here with my language.  It is the rarest of case — you know, it says tolerated, first of all, so that we are dealing with something that is not encouraged in any sense."

He says that divorce is tolerated (something we don't like) and only as a last resort to defend legal rights and to protect children. As an example of something we tolerate, he described the unjust cruelness of Nero in New Testament times. He believes that situations in which divorce would be tolerable are rare. He finishes, "I would be very, very careful, especially in the United States, where the marriage law is so problematic."
Excerpt was 35min:35sec in original here
During the same program, Msgr. Swetland got another call from a woman who asked if a woman "should stay in the marriage" even though her husband is mentally ill.
Msgr. Swetland said the woman is obligated to keep her vows and cannot "get out of the marriage." She will stay married regardless of the situation. If his mental illness leads him to be dangerous to wife or children, then he needs to be separated while he deals with it.
There can and be physical separation and the marriage goes on. That is part of the marriage commitment, in good times and bad, sickness and health. The whole community should be supportive to woman whose husband has any kind of sickness, the community should respond help.
I'm so glad Msgr. Swetland stands for marriage compared to other diocesan personnel or self-professed marriage experts who would tell the caller that the goal should be divorce and easy annulment. My regular readers know the type.
Excerpt was 8min. of original here