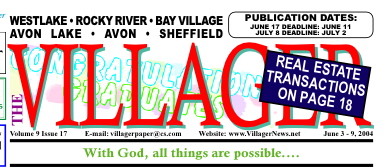 Defending Marriage in Ohio: A Westlake Woman's Mission
Posted by Mary's Advocates
On January 15, 2004
January 15, 2004
Reprinted with permission from The Villager www.villagernews.net
"If you don't want your children to be divorced, don't want to be divorced yourself, or suffered because you grew up in a divorced home, you need to keep reading," writes Mary, a Westlake mother of four fighting divorce.
"I'm a stay-at-home-mom with four children and my husband moved out several months ago. He has taken legal action to get a divorce. As I've been learning about my situation, I now have some serious questions and also see some unexplained inconsistencies."
Mary has started a web site and is working with an attorney. She questions the Ohio General Assembly on confusion that may exist for the many people who may share her experience.
Mary's points
"My marriage vows are a binding contract," says Mary.
"I'm familiar with the concept of a legally binding contract. If one of the parties fails to perform or deliver on its promises, a breach of contract occurs. Shouldn't the state enforce this contract and enforce it vehemently?
"Couldn't we expect the family law professionals (lawyers and other professionals, like mediators, psychologists, etc.) to protect the best interests of the children, which is for their parents to stay together?"
Contradicting terms
"I want to stay married! – but could have mistakenly told the court the opposite," said Mary. "I don't want to be divorced – I believe we can overcome our problems if given a chance – and I was relieved to learn that my husband has to prove we meet certain grounds, or conditions, in order to get his divorce.
"In my 'answer' to his divorce complaint, I can tell the court that I think he has no legal grounds for divorcing me. However, I was stunned to learn that if my answer to his divorce complaint even mentioned that we were incompatible, I would have unknowingly just given the court the legal grounds for granting divorce.
"Have other people in my position been mislead this way – unknowingly giving the court the legal "green light" to grant a divorce they did not want?"
Legislative Confusion?
"In Ohio, if both spouses want to quit being married and can agree on shared parenting and financial plans, they can get a 'dissolution of marriage'," said Mary.
"If both spouses want to quit being married, declare they are incompatible, but can't agree on shared parenting or financial plans, they can get divorced and the court will decide how to split children and money.
"But what happens in my situation where my children and I don't want a divorce?"
Grounds too low?
Ohio lists eleven grounds, or conditions, for getting divorced. "If I deny my husband's accusations (grounds), he'd have to be ready to prove them by Ohio Rules of Evidence. Isn't due process a fundamental right?," asks Mary.
"Presently I'm confident that he can't prove any of these grounds, but I'm given the impression that the court presumes divorce and doesn't really care – that there is no recourse for saving my marriage. I've been told that the threshold for establishing grounds for divorce is so low that a wife can divorce her husband because he's grossly neglected his duty by not taking out the trash. A husband can divorce a wife for extreme cruelty because she told him, 'Go to hell.'"
"In Ohio, are people truly agreeing to divorce, or are people being mislead and ending up with a forced divorce for such frivolous reasons? Was this the intention of the Ohio legislature – the governmental body responsible for instituting this set of rules?" asks Mary.
When are grounds met?
"I don't want my family broken apart – I believe that with expert help our relationship can be repaired," said Mary. "The court has the power to order this kind of help (§3105.09.1), but I was told the judge will not order it unless both parties agree to it – but in most cases, one of the spouses is resistant."
"Meanwhile, my husband hasn't proven there are grounds for divorce. The court is ordering us to spend thousands of dollars on court-ordered professionals. I've felt very pressured to reach a 'parenting agreement' which is nothing more than a court-order which dictates that my kids must be removed from their home part of the time. When I asked what would happen if I refused to reach and agreement, I was warned the judge may order something worse."
"Is pressure put onto those in my situation because Ohio legislators don't want trial lawyers and the judges to have to prove grounds for divorce? Why are judges, trial lawyers, children's lawyers, psychologists, and mediators allowed to charge us so much money before anyone has even established whether my husband indeed has any grounds?"
Earning a divorce
"If my husband left us, I as the innocent spouse, could divorce him because of item (B) 'Willful absence of the adverse party for one year,'(§ 3105.01) This has been part of Ohio law for over 50 years: abandonment," reports Mary.
"Though my husband may presently have no legal grounds for divorcing me, there is an implied impression that he can just wait one year and earn his divorce because of item (J) on the listed grounds for divorce – "On the application of either party, when husband and wife have, without interruption for one year lived separate and apart without cohabitation. "
"Does Ohio law intend to mean 'de facto divorce' when one spouse abandons the family for one year. Who would support such a cruel law?
"To serve justice, and be consistent with the understanding that abandonment is considered wrong.
"If legislators and fair-minded voters never intended for my husband to earn his divorce by abandoning us, something needs to be done quickly to help me and the hundreds – or thousands – of people in my situation. I've been given the distinct impression that in my county, the court will give him a divorce in response to his act of abandoning the family. Hundreds – or thousands – of us may be victims of "forced" divorces. Please help us and our children."
The web site
"I'm very interested in knowing how your legislators answer my questions, in contrast to trial lawyers," concludes Mary.
"Contact me via e-mail: ma.defending@marysadvocates.org."
(Ed. Note: Attorney who reviewed this story points out a possible area of clarification in Mary's us of the term "de facto divorce." "Technically, this term is misused, but in context, the point is very understandable to a lay person," he writes. "It may, in fact, be more powerful than a lawerly explanation of the separation clause of RC 3105.01. The power of Mary's words comes from her personal involvement in an impersonal and, to a great degree, incomprehensible process. The misuse of the term underscores Mary's plight……..I think the original's power more than compensates for its minor lack of technical correctness."