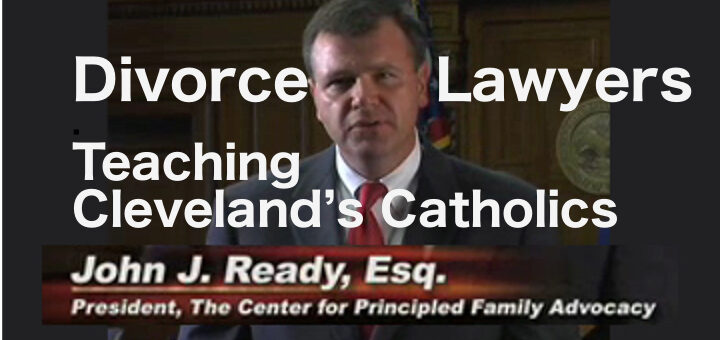 Asking Cleveland Diocese Cathedral – Stop Scandal
Posted by Mary's Advocates
On January 29, 2020
Open letter to priests at Cleveland's Cathedral of St. John the Evangelist
Dear Fr. Sean Ralph, Fr. Lagman, and Fr. Oleksiak,
(Rector, Parochial Vicar, and In Residence)
In the Cleveland Diocese' Cathedral parish bulletin this past Sunday, there was an item titled Divorced and Catholic?. The text is scandalous because it leads readers to conclude that every divorced person is encouraged to receive the Sacraments regularly, even Holy Communion. Please correct this. This text repeatedly appears and may have been established as a periodic item in the bulletin long before you were assigned to the Cathedral.
Catholics are only welcome to receive Holy Communion when we are not in grave sin. Additionally, we cannot be absolved of sins in Confession unless we have the firm resolve to sin no more and to avoid the near occasion of sin.  Every time a couple separates, one or both of them are breaking their marriage promises – which is understandably a grave sin. See Capuchin Father Weinandy's evaluation of conscience for married people The Two Shall Become One: The Sacrament of Reconciliation and Marriage published by the USCCB.
The Cleveland Cathedral parish bulletin says this:
Divorced and Catholic? – Divorce is the sad and painful death of a once precious dream. Faith in Jesus Christ can assist in its healing. Simply being divorced does not separate a Catholic from the Sacraments. Divorced Catholics are encouraged to celebrate the Sacraments regularly. Because of our belief in the life-time commitment of marriage, we urge those who are remarried and without an annulment to abstain from receiving Communion, but to attend Mass with the Christian community. Divorced and remarried Catholics should talk to a parish staff member regarding the possibility of an annulment so that their union can be blessed by the Church.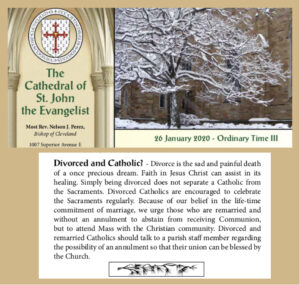 It is problematic that the text makes no distinctions that are made in the Catechism and our Code of Canon Law. There is a distinction between persons who are at fault for reneging on their marriage obligations and those who uphold the obligations while counting on the other to uphold them also.
When someone abandons the marital home, he's breaking the obligation to maintain a common marital home for the other spouse and children (canon 104, 1153).
When someone commits adultery, he's breaking the obligation of fidelity.
When someone is gravely abusive, he's breaking the obligation of mutual help of the other (mutuum auditorium).
Consider if we swapped the word killing for divorce to illustrate the absurdity of text in the Cathedral's bulletin that indicates that no divorced person is in grave sin.
Killing someone can cause wounds. Faith in Jesus Christ can assist in its healing. Simply being one who kills others does not separate a Catholic from the Sacraments. Catholics who kill others are encouraged to celebrate the Sacraments regularly. Because of our belief in sanctity of human life, after killing someone, we urge those who buried the bodies of those they killed to abstain from receiving Communion, but to attend Mass with the Christian community. Those who killed and buried the bodies should talk to a parish staff member regarding the possibility of discovering that the person they thought they killed was already dead prior to the attempted killing.

This text indicates that killing is never a grave sin when readers are told that anyone who kills can receive all the Sacraments. Catholics make distinctions between those who kill for morally just causes and those who commit the grave sin of murder. Catholics must make the distinction between those who committed a grave sin by abandoning/divorcing and those who kept their marriage promises.  There are Catholics who were unjustly abandoned with no defense against the no-fault divorce attorneys and court-appointees.  I venture to speculate that two thirds of divorces are filed against a defendant who has done nothing grave justifying separation of spouses, so in two thirds of the cases, the plaintiffs are in grave sin.  For the remaining third, where the plaintiff has a legitimate reason for separation, the divorce defendant is in grave sin.  He should have the firm resolve to stop abandoning the marital home, stop committing adultery, or stop being dangerously abusive, etc..
The Cathedral bulletin asks those who are divorced and remarried to talk to parish staff about annulment. The most commonly used ground for annulment is canon 1095. For those who reneged on their marriage obligations because they lacked capacity to consent to marriage in the first place, due to serious psychopathology, their psychopathology is relevant to parties' obligations toward each other (i.e. annulment due to grave lack of discretion, canon 1095, cf. JPII 1988).  In other words, one who caused a marriage to be invalid should be not rewarded with the outcomes arranged by no-fault divorce practitioners, thus magnifying the injustice done to the other spouse.
Divorce Lawyers and Court personnel are Teaching Cleveland's Catholics
In the Cleveland Diocese, it appears that domestic relations lawyers and court appointees are teaching the faithful about divorce, instead of our Bishop and priests.  The county divorce court building is less than a mile northwest of our Cathedral. Lawyer, John Ready, says that "he served on Cleveland Catholic Diocese, Diocesan Pastoral Counsel" (source).  He speaks on behalf of over one hundred Cleveland-area attorneys, mediators, judicial officers and appointees as a charter member of their organization, The Center for Principled Family Advocacy (FAMAD). Regularly, they violate Saint Pope John Paul II's instruction that lawyers should never work for a client who intends to break-up his marriage (2002 Address to Rota)"
Ready says "The most important decision you will make at the end of your marriage is inevitable; it's how your marriage will be terminated" (source > video 2). This statement alone gives scandal because it disregards the natural law principle that children have a right to an intact home. Furthermore, it ignores the moral question of whether a party initiating a civil dissolution even has a legitimate basis for permanent separation of spouses. The best outcome should be for the person reneging on his marriage obligations to amend his behavior – not force divorce (or dissolution) on the other spouse and children.
Ready's organization says you (plural) have choices, but he omits important facts. No defendant has the choice to NOT be divorced, to NOT have all the work formerly shared by two parents in maintaining ONE household forever thereafter split maintaining TWO households, to NOT lose everyday access to one's children much or most of the time. If the plaintiff wants property and children, the Court is going to take it away from the defendant.
See my recent article in Homiletic and Pastoral Review, No-Fault Divorce, Standing for Justice. "With the onset of no-fault divorce, the court system became the state's mercenary that takes children and property away from a spouse who has done nothing grave to justify separation of spouses. Divorce is an unjust lifetime sentence that forever gives scandal to children."
Domestic Relations attorney, John Ready says that his FAMAD organization gives control to parties, but this is misleading, because, as I said in my Homiletic and Pastoral Review (HPR) article, defendants undergo cruel coercion.
In the case of an abandoned wage-earner, when the other spouse files for no-fault divorce, the wage-earner knows that the court will, by default, take half or more of the marital property from the wage-earner. For this reason, many divorce defendants are coerced into agreeing to some unconscionable type of property and child custody settlement, because to do otherwise would result in tens of thousands of dollars of attorney fees in order to prepare for a trial.

Court-appointee, Dr. Deborah Koricke, is part of John Ready's FAMAD organization (source). She is a domestic relations evaluating psychologist and appears to have, at least some, connections with the Cleveland Cathedral; a close family member was married there. When a divorce defendant does not agree to the plaintiff's plan for the defendant to lose everyday access to their children, the court will force the parents to pay a domestic relations evaluator, like Koricke. In my HPR article, I provide readers with an excerpt from one of Koricke's evaluations in which she criticized an abandoned wife whose three-year-old child said "Daddy broke the family." Koricke recommended to the court that the mother should not be permitted unsupervised time with her children unless she forced her three-year-old to think that the father did not break the family.
If John Ready and Deborah Koricke were devout Catholics, they should know:
When a Dad files for divorce against his wife who has done nothing grave to justify permanent separation of spouses, the Dad is breaking the family, which is immoral for Catholics. The Church never relegated to the civil forum the competence to judge cases in which spouses stop living together.
Moral fault must be relevant to the obligations of parties toward each other and their children and the Church never relegated competence to decide obligations to the government courts.
Not all divorced Catholics are able to receive Holy Communion because a large number of them are committing the sin of abandonment, grave abuse, or adultery, for example.
Though, if these no-fault domestic relations court workers' only source of teaching is the Cleveland Diocese Cathedral parish bulletin, they wouldn't know any better.