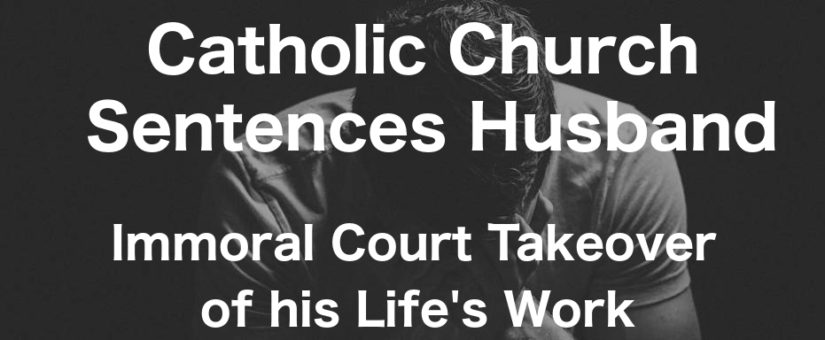 Catholic Church Sentences Husband – Immoral Divorce Court
Posted by Mary's Advocates
On November 17, 2018
by Bai Macfarlane
The diocesan response to a husband who sought pastoral intervention to uphold his marriage is heart wrenching. Rather than receiving help, a bishop's Delegate told his wife that she, "in good conscience" can file for divorce. The Church never gave the husband an opportunity to defend himself nor advised him of any allegations his wife might have made against him.
See Canon Law Case Record HERE
The husband, who I'll call Jim, was experiencing a marital crisis because, as he told Mary's Advocates, "my wife hates me."  He and his wife have been married for 32 years and have several adult children. According to Jim, his wife has treated him so terribly in recent months, that Jim questions whether he has a morally legitimate reason for separation of spouses.
Those who marry in a Catholic ceremony are obligated to live together. The Catechism teaches that each contracts "to live with each other till death" (CCC 2384), unless a morally and canonically legitimate reason excuses one from living with the other. Furthermore, Catholic doctrine teaches that cases of separation of spouses must be judged by the ecclesiastic forum. In July, Jim petitioned the diocese, "pursuant to canon 1153, I am requesting an initiation of a separation decree to legitimize future separation" and he said he looked forward to hearing what the next step would be.
Mary's Advocates publicizes the Catholic Code of Canon law on separation of spouses, and prior to a diocese judging a case of separation of spouses, diocesan personnel are obligated to try to facilitate reconciliation.   Thereafter, the diocese is also required to judge whether the respondent/defendant has behaved so terribly that the petitioner/plaintiff is justified in separation.  Worldwide commentary on canon law teaches that (other than adultery and making it impossible for one's spouse or children to practice their faith) certain criteria must be met before separation is justified:
grievous behavior must be dangerous
grievous behavior must be repeated, and a one-time occurrence does not justify separation
separation must be the only way to avoid the danger (source University of Navarra).
In July, a bishop's Delegate responded in writing to Jim's petition stating, "The Church does not place any blame on either or both parties nor find that either party was more at fault than the other." Diocesan personnel also read a document to Jim for which he was not allowed his own copy, that said he and his wife both were free, in good conscience, to separate.   After Jim received the disappointing answer to his petition, he pleaded with the bishop's Delegate.
I strongly believe my wife values her Catholic faith enough that she would seriously pray and discern if Your Excellency reminded her of the necessity of her upholding her marriage obligations. So, I ask you to revoke the 13 July 2018 judgment by Delegate, stating that parties [plural] may separate in good conscience.

Rather than proceeding to implement the canon law that Jim requested, the bishop's Delegate rejected his request for a judgment in an administrative case of separation of spouses. The bishop's Delegate gave his wife "permission to approach the civil court to settle the civil effects of a separation or divorce."
Jim knows that through the no-fault divorce courts, his wife is essentially empowered to hire mercenaries to attack him.  Divorce defendants who have done nothing grave to justify separation of spouses are routinely evicted from the marital home, ordered to give their wives half the property that the husband's salary enabled him to buy during his career, and pay their wives tens of thousands of dollars in alimony.
Jim appealed to Cardinal Sarah's Congregation for Divine Worship and Discipline of the Sacraments against the mishandling of his July petition to the bishop.  Jim is filing in the diocesan tribunal another case wherein he asked the Church to vindicate his rights and implement the canon law on separation of spouses in a full ecclesiastical trial.
Jim is attempting to follow Christ's instructions in Matthew 18:
If your brother sins (against you), go and tell him his fault between you and him alone. If he listens to you, you have won over your brother. If he does not listen, take one or two others along with you, so that every fact may be established on the testimony of two or three witnesses. If he refuses to listen to them, tell the church. If he refuses to listen even to the church, then treat him as you would a Gentile or a tax collector" (Matt.18:15-17).

However, when he 'told the Church,' the bishop's Delegate empowered his wife to further assail him as she sics on him the no-fault divorce lawyers and judges. The government judges care nothing about his wife's obligations: "Christian spouses also strive to nurture and foster their union in equal dignity, mutual giving, and the undivided love that flows from the divine font of charity" (from the Order of Celebrating Matrimony cited in Jim's pleadings to the Church).
Recently, Jim's wife signed a petition for divorce written by her divorce lawyer, and it was in Jim's mail yesterday.  From Jim's perspective, the bishop's Delegate failed to provide the spiritual work of mercy of admonishing the sinner. Jim says his wife exhibits pre-eminent hatred towards him and is reneging on her marriage promises. Instead, the bishop's Delegate tacitly condoned her grievous actions by its refusal to judge Jim's July petition, and it emboldened her to give scandal to everyone who knows them.
The bishop's Delegate essentially told wives that there is nothing wrong with the following:
hating your husband,
refusing to reconcile,
reneging on your obligation to contribute your share of help around the house,
permanently separating from your husband, and
using the secular no-fault divorce courts to take half or more of the marital property from your husband, and forcing him to pay you while you continue to break your marriage promises.