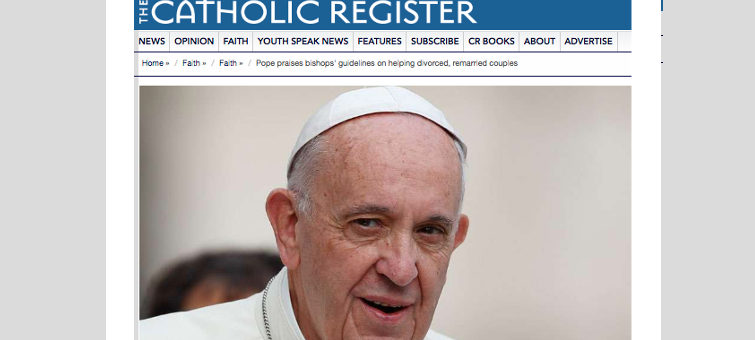 Buenos Aires Bishops – Communion for those in Second Unions
Posted by Mary's Advocates
On September 13, 2016
Pope praises bishops' guidelines on helping divorced, remarried couples (

see original

)
Cindy Wooden's article, describes the Buenos Aires bishops' approach to giving Holy Communion to those in second unions, who do not live as brother and sister, and do not have annulments from previous marriages. The story was published in Catholic News Service (reprinted on "Catholic Register" not "National Catholic Register")
"The process of discernment – of looking at actions and failures that contributed to the breakup of their sacramental marriage, their current family responsibilities and their resolve to life the Christian life more fully – may not necessarily end with the reception of the sacraments, the bishops said."

Noteworthy however, is the fact that any bishop who implements the pastoral care described in the Catechism and Canon Law would look at the actions and failures that contributed to a breakup of a marriage at the time of separation, when a break-up is brought to the bishop's attention before civil divorce even occurs. A party's responsibilities toward his or her original family (including children conceived in marriage) is supposed to be studied at the time of the separation.
For example, the 1983 Code of Canon Law, canon 1692, shows that in cases of separation, the ordinary (Bishop) judges what kind of separation plan would be in accord with divine law. In cases questioning the validity of a marriage, the judge instructs the parties of their obligations toward each other and their children (Mitis Iudex c. 1691 § 1). The judge is supposed to give this instruction regardless of whether or not the annulment is granted. I haven't discovered whether the bishops of the Buenos Aires pastoral region implement these canon laws.
Mary's Advocates publicizes in our Resources > Defending Marriage,  a way for any spouse to Petition the Bishop asking for these canons to be implemented at the time of a breakup, years before anyone enters a civil second marriage.