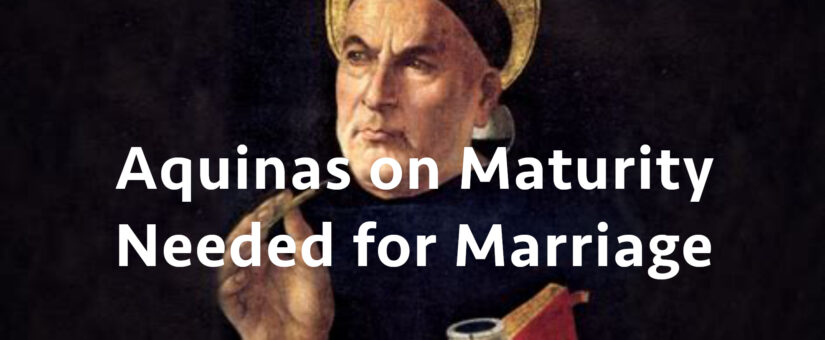 Aquinas on Maturity Needed for Marriage
Posted by Mary's Advocates
On July 25, 2022
For those who are defending the validity of their marriage against the accusation that the Petitioner suffered a grave lack of discretion of judgement, I suggest you quote St. Thomas Aquinas.
In a sentence issued in 1993, the appellate tribunal for the world (The Roman Rota) issued a sentence wherein they cautioned against those who claim that only those with "full adult age" are capable of marriage.  Roman Rota Judge, Msgr. Cormac Burke published an English version of his sentence on his website archived HERE.
The balance of the matter is well expressed in a Sentence coram Pinto of June 26, 1969: "Because of the unique importance that marriage has for the contracting parties, as well as for the family and for human society, it is very necessary that, before it is celebrated, the parties should exercise greater deliberation than in the case of other contracts. However one has to avoid demanding for its validity such maturity of judgment and such freedom as are only found in full adult age. For as St. Thomas says, «in matters towards which nature inclines, the same vigor of reason in deliberating is not required as in other matters. Therefore, given sufficient deliberation, a person can more readily consent to marriage than settle his affairs in other contracts without his tutor» (Suppl, q. 58, art. 5 ad 1)" ("Ob singulare momentum quod matrimonium sive pro contrahentibus sive pro familia ac humana societate habet, expedit omnino ut antequam illud celebretur contrahentes maiorem deliberationem quam pro aliis contractibus adhibeant. Cavendum tamen est ne ad eius validitatem exigatur talis iudicii maturitas tantaque libertas quales solummodo in maioritate inveniuntur. Nam, ut ait S. Thomas, «in illis ad quae natura inclinat, non exigitur tantus vigor rationis ad deliberandum sicut in aliis. Et ideo ante potest sufficienter deliberans in matrimonium consentire quam possit in contractibus aliis res suas sine tutore pertractare»… ": RRD, vol. 61, p. 655-656.).
English version of his sentence in Studia canonica, 29 (1995), pp. 241-253]