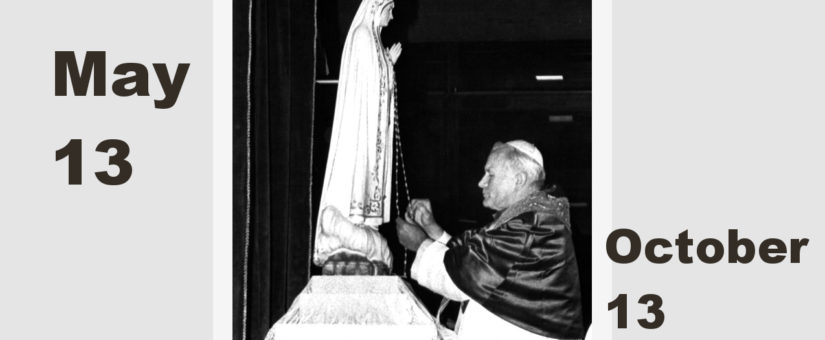 100th Anniversary of Fatima Marks our Appeal to Signatura
Posted by Mary's Advocates
On October 15, 2017
Our Lady of Fatima sweetly frames our recent work to uphold marriage against unilateral no-fault divorce. On October 13, I made an appeal to the Supreme Tribunal of the Apostolic Signatura, after receiving three months of silence from the Congregation of the Doctrine of the Faith (CDF). My previous appeal to a Congregation was made on May 13 (see earlier story).  Those dates mark the 100th anniversary of Our Lady's first and last appearance in Fatima.
It is appropriate that our appeals occur on dates significant to Our Lady of Fatima, because she told Sr. Lucia that Satan's last battle would be about marriage and family.  The controversy that I am bringing to the Roman Curia revolves around that statement I wrote in a trifold flyer:
 "In the United States, the permission of the Bishop or his mandated delegate, is required before a spouse can approach the civil forum to obtain separation from bed and board. In other words, before a spouse files in the civil court for divorce or civil separation, he or she must have permission from the Bishop."

Whether this statement is correct is important because it helps determine the principles that must be used in cases of separation of spouses. For Catholics, divorce is nothing more than separation of spouses where obligations of support, property split, and children's schedules are determined. These determinations should be made in accord with divine and natural law for Catholic families, while respecting the obligations of husband and wife toward each other and their children–that are implicit in Catholic marriage.
In civil no-fault divorce, no distinction is made between the spouse who reneges on the marriage promises and the other spouse. Divorce is the process by which an adulterer or abandoner can purportedly be freed of his marital obligations, and forcibly take property and children from the other spouse. Civil courts have no interest in protecting children from scandal; unfortunately, a spouse who teaches his or her children that marital abandonment is wrong, could be penalized by divorce judges and court psychologists.
The appeal made to the Signatura on October 13 follows another appeal to the Signatura that was made on August 27. That one was opened, prejudged, and returned to me by the Papal Nuncio in Washington DC, which seems to be outside the normal procedure. I resent my August 27 appeal to the Nuncio and asked that he forward it to the Signatura.  Though I never received the customary confirmation letter from the Nunciature, I did, on October 11, receive a letter from the Secretary of the Signatura. His response addressed a different issue than the controversy for which I am seeking resolution. Consequently, I'm sending another appeal to the Signatura dated October 13 and shipping it to Rome myself rather than asking the Nunciature in DC to forward it.
I am asking the Signatura whether the CDF was incorrect to affirm the position of my local bishop. Canon law shows that the CDF's 3-months of silence was equivalent to denying my appeal (c. 57 §2). My local bishop is denying his approval for publication (a.k.a., his imprimatur) to my statement wherein I say a party needs the bishop's permission before filing for divorce.