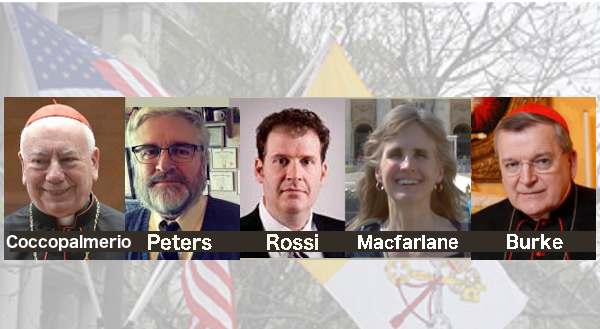 Who Decides What Happens when Spouse Reneges?
Posted by Mary's Advocates
On July 8, 2017
Yesterday, a Catholic civil lawyer, Clay T. Rossi, published an article on the Catholic site, OnePeterFive. His article "Permission for Divorce and the Catholic Lawyer's Dilemma" centered around Mary's Advocates' controversial brochure in which I show that a Catholic is required to have the bishop's permission before filing for divorce.  Rossi is an attorney who lives in Mobile, Alabama, and is the author of a book for Catholic Lawyers published by TAN books.
Rossi describes how I asked a congregation at the Vatican to resolve the controversy between myself and my bishop about our brochure. Moreover, Rossi focuses on the public debate between myself and Edward Peters.
This is not some abstract esoteric debate that is irrelevant for the average citizen.  This controversy centers on whether, or not, children are forcibly deprived of everyday access to a decent parent who promised, before those children were conceived, to be faithful to his spouse. The debate's resolution will affect whether, or not, residents of a state, through the actions of their civil courts, can gang up on a decent husband to drain his bank account and make him homeless, at the request of his wife who betrayed him and reneged on her marriage promises.  With the non-profit organization, Mary's Advocates, I work to reduce unilateral no-fault divorce and support those who are unjustly abandoned. The Catholic Church's teaching on divorce and separation of spouses requires that separations initiated by a Catholic, should be in accord with divine law. No-fault divorce has outcomes that are horrific, unjust, and cruel to the faithful spouse and children.
Ed Peters is a canon law professor for the diocese of Detroit. He knows I publicize that a Catholic in the USA is required, by canon law, to get the bishop's permission before filing for divorce. Peters criticized my position
(note added July 12, 2017), Peter's says in his May 18 blog,  "[P]art of the disagreement between the author [Bai Macfarlane] and the diocese turns on the weight to be accorded a 2015 letter from Cdl. Coccopalmerio, president of the Pontifical Council for Legislative Texts, wherein he opines against the assertion that Catholics must obtain episcopal permission prior to filing for divorce.]
So, on May 20, I wrote Mary's Advocates' Rebuttal to Ed Peters.
Yesterday's article by Rossi criticized Peters.
"The position of the "renowned Roman canonist" arguably promotes some of the favorite vices of the modern day Church: sloth, cowardice, and pride. Can anyone argue that it's easier for the churchmen if the sheep remain blind? Imagine the boat-rocking you'd create by telling couples that their marriage is not their exclusive, personal plaything. They might not like that. Even worse, they may not listen to you after you do inform them of the rules. And sheep who don't listen to the shepherd can hurt the pride of a shepherd who has become enamored of his own authority."
This morning, Peters posted a blog titled, Rossi's mean remarks. [(note added July 11, 2017). Rossi answered Peters HERE). What I find amusing about Peters' critique against Rossi, and against me, is that he leads readers to dismiss us because we are not canon lawyers.  To support his position, he quotes a canon lawyer that teaches that it is good to keep secret from the faithful the canon law regarding divorce.
Peters criticizes Rossi for not studying enough:
Has Rossi ever, I mean ever, picked up a classical moral theology text book, perused a collection of reliable Catholic Q&A columns, or read a canonical journal? Virtually everyone one of these publications has dealt many times with the duties of Catholic lawyers toward their clients and the civil legal system. How can anyone remotely familiar with the Catholic moral tradition not be aware of the frequent treatment that these questions have been accorded by esteemed thinkers in the Church? Unless, that is, one is not really so familiar with the Catholic moral tradition, in which case, though, one is hardly in a position to accuse the Church of not addressing these serious issues.
The irony is that I invite Peters, and everyone who disagrees with me, to study classical canonical journals and Catholic moral tradition. I was so excited about what I discovered that I started a 501(c)(3) non-profit organization to publicize my findings. Regarding the Catholic teaching and canon law, readers can see dozens and dozens of original sources on Mary's Advocates > Research > "Catholic Divorce" HERE.  Furthermore, we show abandoned spouses how to petition the Church using canon law to try to stop a breakup. My findings were so valuable that I was invited to speak in Rome at a symposium with a welcome letter from Cardinal Raymond Burke.
The Catholic Church is supposed to be interested in protecting her members from being taught incorrectly while at Church. So, canon law requires that anything distributed in Church must have the permission for publication from the bishop of the author, or the bishop of the publisher. When I sought my bishop's permission for Mary's Advocates brochure, it was denied. This permission is commonly called an imprimatur.
In my brochure, I say that canon law requires a party in the USA to have the bishop's permission before filing for civil divorce. My bishop says I'm incorrect.
My bishop emphasized that my statement is contrary to a statement from Cardinal Coccopalmerio, the Prefect of the Pontifical Council for the interpretation of Legislative Texts. That office has the competence (authority) to issue authentic interpretations of canon law when they follow a predetermined process with official approval from the Pope.  The statement that Cardinal Cocco' made, which was my bishop's reason for denying the imprimatur, was not an authentic interpretation of canon law. Cardinal Cocco' did not follow the pre-determined process with approval from the Pope.
Cardinal Coccopalmerio is connected to the recently publicized cocaine-fueled homosexual orgy in a building right next to St. Peter's Basilica. The Italian media broke the story last week. The monsignor who hosted the orgy was a canon lawyer on staff for Cardinal Cocco' at the Pontifical Council for the Interpretation of Legislative Texts. Cardinal Cocco' recommended that this monsignor should be promoted as a bishop.
If, as Sr. Lucia from Fatima said, the devil is going to try to destroy marriage and family, an effective strategy would be to muffle those who publicize the Church's teaching. Rather than teaching abandoners that marital abandonment is wrong, the Church could ignore her own canon law on separation of spouses and divorce. The Church could hand to the civil forum the management for cases of separation of spouses. Thereafter, the Church could grant annulments to virtually 100% of the petitioners. In dioceses where the tribunal wouldn't cooperate in granting everyone annulments,  the Church could condone all adultery with Amoris Laetitia.
St. Thomas More, pray for us!
Our Lady, mirror of justice, pray for us!