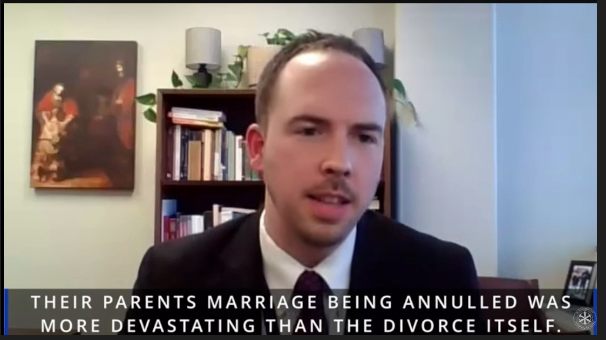 What Children of Annulment Really Feel
Posted by Mary's Advocates
On August 7, 2023
Has anyone else, like me, been miffed when tribunal personnel seem to whitewash the effect their affirmative nullity of marriage sentence will have on children? Diocesan websites figuratively pat children on the head and say, "you don't need to feel bad; an annulment doesn't make you an illegitimate child."  Alexander Wolfe, an adult child of divorce, describes what adult children of divorce really feel when a tribunal says their parent's marraige was invalid. He earned his Masters from the JPII Institute, works in the Office of Marriage for the Catholic Diocese of Arlington, and is retreat leader for Life-Giving Wounds program for adult children of Divorce.
"In my mind, I'm part of this beautiful Catholic family. Then all of a sudden it's breaking down, but no just breaking down. There wasn't a marraige in the first place." … "These memories of being in a Catholic family. Are they real?" … "(children of divorce) want the Church to say 'no! Marriage is for life.'." 

Watch Alexander's full discussion with Dr. Margaret McCarthy (professor at the JPII Institute in D.C.) hosted by Dr. Jennifer Roback Morse of the Ruth Institute: Children of Divorce Find Healing (ep. 195).