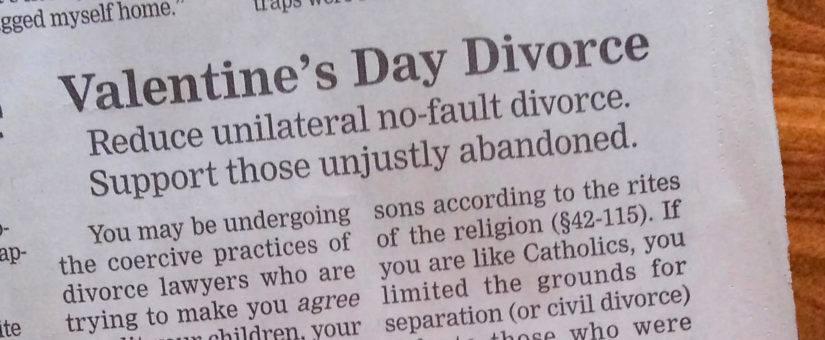 Valentine's Day Divorce – Ad. in Nebraska Paper
Posted by Mary's Advocates
On February 15, 2019
Mary's Advocates' friend helped us sponsor this ad in Nebraska newspaper, The Hastings Tribune.
Valentine's Day Divorce
Reduce unilateral no-fault divorce. Support those unjustly abandoned.
You may be undergoing the coercive practices of divorce lawyers who are trying to make you agree to split your children, your property, and have one pay the other child support or alimony.
If that is what you intended when you made your marriage promises, stop reading. However, when you married, if you intended to jointly work with your spouse to provide a home for each other long-term, ask yourself, how is it constitutional for your spouse to sue you if you didn't renege on your marriage promises.
Nebraska statutes say that marriage is a contract (§42-101), plus every religious society can join together in marriage persons according to the rites of the religion (§42-115). If you are like Catholics, you limited the grounds for separation (or civil divorce) only to those who were betrayed, for example, by an adulterer or a dangerous abuser.
It is difficult enough that the one who promised you loyalty for life betrays you, but it is even worse when your fellow-residents of Nebraska, (through no-fault divorce statutes) proport to have the power to take your children, your home, and your earnings.
Find resources at Mary's Advocates, the organization working to reduce unilateral no-fault divorce and support those who are unjustly abandoned.
---
Set your marriage apart from no-fault divorce by signing your own marriage covenant in which you promise to uphold obligations of marriage according to God's Word the Bible, or the Catholic Code of Canon Law with a "True Marriage Proclamation Set."
Sponsored by MarysAdvocates.org