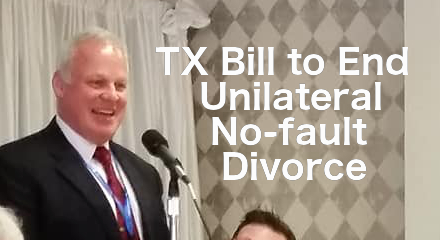 Texas House Bill – End Unilateral No-Fault Divorce
Posted by Mary's Advocates
On May 1, 2019
Mary's Advocates' friend, Jeff Morgan, organized Texas residents to give three-minute testimonies in today's Texas House committee meeting on a proposed bill to eliminate unilateral no-fault divorce.  In Texas, if one spouse asks for a divorce, the court is obligated to force it on the other spouse and children, including the taking of property and splitting of children – if everyone else wants to be left together. Marital abandoners use government power to take children and property from a spouse who has done nothing grave justifying separation.
Two bills, sponsored by Texas Representative Matt Krause (R), are schedule for public hearings today in the Texas House Juvenile Justice & Family Issues Committee. From the committee's website, hearings are available as Live Broadcast. Though, at the time of this writing, the hearing had not yet started and Morgan tells Mary's Advocates it is likely to start at 8 PM Central.
Jeff Morgan posted on facebook his invitation: "If you cannot be at the testimony in person, please call these representatives and ask them to vote YES on House Bill 922 and House Bill 926. Thank you!"
He posted this image on facebook.
.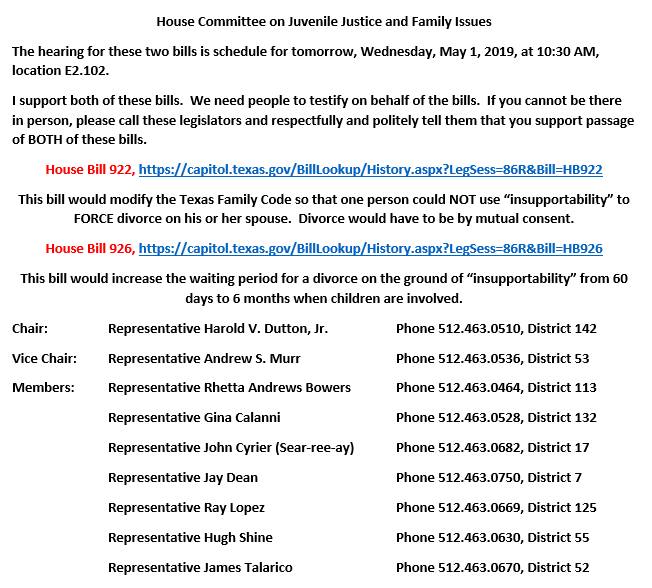 ..
About each bill, Jeff Morgan told Mary's Advocates:
House Bill 922 would permit "no-fault" divorce only if there is a mutual agreement between spouses, such as is the case in Mississippi and South Dakota.  The current practice is found in the Texas Family Code in section 6.001 (Insupportability).  As opposed to being a legitimate fault-based reason for divorce, insupportability permits divorce on demand at the request of one spouse—for any reason, for no reason, or even for a fabricated reason.  It is unilateral divorce, and the respondent to the divorce lawsuit loses 100 percent of the time, despite any protest against or unwillingness to agree to a divorce.  "Insupportability" is reason most divorces are granted in the state of Texas.  For all intents and purposes, Texas has embraced nearly the exact same divorce policy that Vladimir Lenin imposed on Bolshevik Russia in the early 1900's in his attempt to abolish the family.
House Bill 926 lengthens the time frame for divorce from 60 days to 6 months when children are involved in the marriage, even if the spouses agree to a divorce.