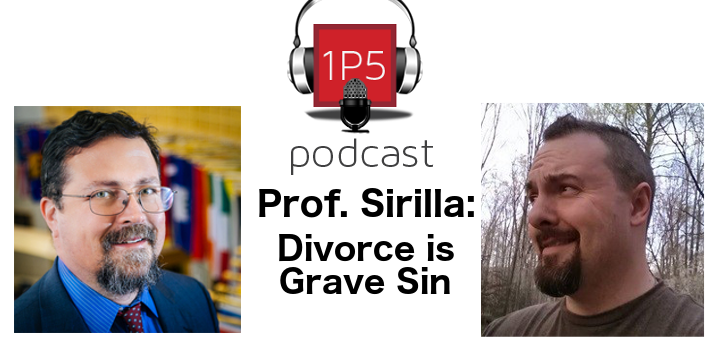 Prof. Michael Sirilla: "Divorce is a Grave Sin"
Posted by Mary's Advocates
On September 5, 2019
A friend of Mary's Advocates, Mark Feliz, shared with us his letter to Professor Michael Sirilla, Professor of Theology at Franciscan University of Steubenville who is Director of the M.A. Theology Program.
Dear Prof. Michael Sirilla,
I recently listened to the Onepeterfive podcast, Episode 22, when you were Steve Skojec's guest.
Excerpts: Full episode found

HERE
You said the act of marital divorce– in and of itself–can be a grave sin. Unlike virtually all the Catholic leaders I know, you have taken seriously Catechism paragraphs 2384-2385. I have been sharing these paragraphs with any Catholic, including our clergy, who is willing to read them. But so many seem shocked by these words in our morally-binding Catechism, and they shockingly have been unaware that abandoning and divorcing one's spouse can actually be a mortal sin while simultaneously ignoring that a vow/promise/oath was given before God and man and is binding.
So far, I have found only Fr. John Hardon who states that violating a vow is a no-no. I have been so shocked over the last 15 years by my priests in two different dioceses. I have also spoken to 3 bishops, 1 emeritus about truths such as these and I end up shocked and sadly walk away dumbfounded.
I also very much appreciate your statements that the bar for validly entering a marriage is not high. [(my words) So many tribunalists and Catholic psychotherapists think the bar for validly entering marriage is very high. Come on now, all ye canon lawyers near and far, if a couple can both understand and commit to making house payments for 30 years, they can understand what it means (and are CAPABLE by the grace of the Sacrament) to stay married for life.]
So often in my experience, priests, religious educators, and Catholic counselors collectively respect the autonomy and happiness of the individual over the indissolubility of marriage. And what about the plight of the children of the union, which are so often ignored? In the past 22 years, I and other unhappily married or divorced Catholics across our nation have heard too many of our priests, deacons, etc. make scandalous comments, propelling me to conclude they were ubiquitously poorly trained.
Michael Sirilla, I pray your students, especially at the graduate level, are given faithful-to-the-magisterium instruction and other effective methods of preparing, enriching, and restoring marriages in your respected university. To further enhance this endeavor, I and other abandoned Catholic divorcees, even in person, are willing to share our testimonies with you, your colleagues, and students.
Thank you professor
Mark Feliz
719-281-7580
Holy Apostles Church Parishioner
Colorado Springs