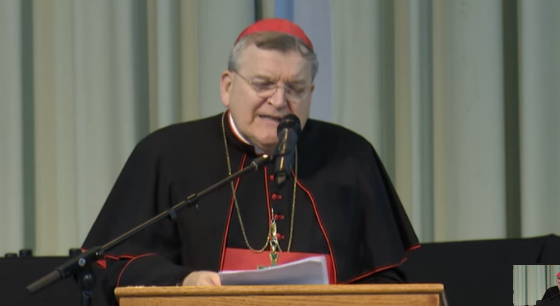 Pope Francis confuses Catholics on marriage vows
Posted by Mary's Advocates
On June 17, 2016
annulment, Raymond Burke, SperoNews
By Martin Barillas
This article was first published at Spero News on June 17, 2016
Yesterday, Pope Francis made impromptu remarks during a question and answer session. As reported by the Catholic World Report and One Peter Five, he said the great majority of marriages are invalid.
According to Catholic World Report, "A layman asked the pontiff about the "crisis of marriage" and how Catholics can help educate youth in love, help them learn about sacramental marriage, and help them overcome "their resistance, delusions, and fears."
The Pope answered from his own experience.
"I heard a bishop say some months ago that he met a boy that had finished his university studies, and said 'I want to become a priest, but only for 10 years.' It's the culture of the provisional. And this happens everywhere, also in priestly life, in religious life," he said.
"It's provisional, and because of this, the great majority of our sacramental marriages are null. Because they say "yes, for the rest of my life!" but they don't know what they are saying. Because they have a different culture. They say it, they have good will, but they don't know."  
When speaking at Franciscan University of Steubenville, Cardinal Raymond Burke explained, months ago, why he disagrees with that assertion. Watch the video below.
This morning, Ed Peters, also adamantly disagreed with the assertion that the great majority of marriages are invalid. He teaches at Sacred Heart Major seminary and was Referendary of the Apostolic Signatura.
Annulment-proof Marriage
Bai Macfarlane, the founder of Mary's Advocates, has suggested a measure to foster annulment-proof marriages. See:  Solemn Marriage Covenant Proclamation Sets.
If someone is going to marry in the Catholic Church, the bride and groom can be invited to sign the above agreement in anticipation of marriage (i.e.. prenuptial agreement) in which they say they want a Catholic marriage. Using language drafted by a constitutional law expert, they specify that they want any marital disputes to be managed in accord with the Catholic code of canon law, rather than the no-fault divorce courts. The canon laws on separation of spouses describe the obligation of the Church to try to encourage reconciliation. If that fails, the canon law references the bishop's power to specify the kind of separation plan that would be in accord with divine law. This has to be more fair than the plans arranged by no-fault divorce professionals.
Raymond Leo Cardinal Burke: Addressing the Instrumentum Laboris - Franciscan University of Steubenville
Macfarlane said "I think the problem is not that people don't want marriage, they don't want counterfeit marriage (that is, no-fault divorce marriage). We provide a way for a bride and groom to say: 'We want a True Marriage.' When the Church implements the canons on separation of spouses, this will be a start toward protecting true marriage."
The Demon That Specializes in Attacking the Family
Recently, Catholic News Agency and EWTN published the story titled: "Exorcist: There's a Demon That Specializes in Attacking the Family."  In it, Father César Truqui warns that everything that is harming the family, including divorce, pleases the devil. The priest added that the devil also seeks to attack the family through ideologies and lifestyles, as well as individualistic thinking and the spread of divorce.
CNA quoted Fr. Truqui saying: "Women "think, 'If I don't like my husband anymore, I would be better off divorcing,' but they forget about the consequences to the children and society," he said. "This mentality that works against the family pleases the devil — he knows that a man who is alone without any points of reference is manipulable and unstable." Father Truqui concluded, "Even today, and I'm more than 50 years old, just thinking that my mother and father love each other forever, I find comfort and courage. In contrast, the children of separated parents are more fragile and wavering."