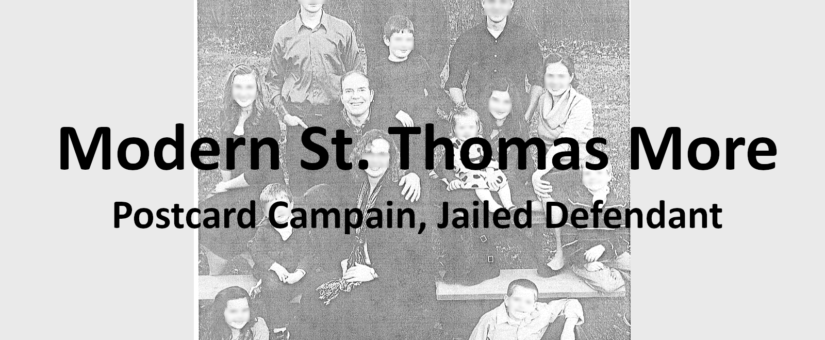 Modern St. Thomas More, Constitutional Challenge
Posted by Mary's Advocates
On June 22, 2023
Postcard Campaign to Jailed Marriage Defendant
Today is the Feast of Saints Thomas More and St. John Fisher. They died because they refused to accept the claim that rulers of the state have competence over Catholic marriage. A modern St. Thomas More, who is making a constitutional challenge, was recently jailed by the Family Court of Michigan, St. Clair County.  I invite you to send a postcard encouraging him to stand strong for marriage.
Gerard Garno
c/o Sheriff's detainee
1170 Michigan Road
Port Huron MI 48060-4658
(810) 985-8115
Mr. Garno is defending his marriage against the takeover of his children and property after his wife petitioned the civil forum for "separate maintenance" which includes asking that her husband be evicted from the family home, and asking for monthly support that is impossible.
In the St. Clair County Family Court, Mr. Garno made a constitutional challenge on 29 April 2021 against the no-fault separation being orchestrated at the request of his wife (See Motion to Dismiss HERE, Exhibits HERE). Among other things, Mr. Garno told the court the following:
Defendant and Plaintiff are both Catholics under the jurisdiction of the Archdiocese of Detroit; …
The 'reasons' for separation is a reference to Canon law meaning the alleged faults of the Defendant causing harm, as alleged by Plaintiff Mrs. Garno; …
the Plaintiff has already admitted that the separation in this case is only temporary …
for either Michigan No-Fault Divorce or "Separate Maintenance" cases, at least one of the parties MUST have the intent for a permanent separation with no intent of effort for and/or desire to reconcile …
the Plaintiff has already admitted that she has and only will have intent only for temporary separation in this case.
The county court in Michigan rejected Mr. Garno's constitutional challenge so he filed an appeal brief on 31 October 2022 (See HERE).  However, his appeal does not stop the Family Court from taking over Mr. Garno's marriage and property. On 11 December 2020, for example, Mr. Garno's employer was ordered to withhold $5700 a month from Mr. Garno to pay the court ordered support to his wife and children. The judge used calculations alleging that Mr. Garno has a net income of $6656/month, which Mr. Garno says is incorrect.  In his appeal brief, Mr. Garno says
Needless to say, it is not possible for Gerard to pay child support payments of over $4,200 per month—much less $5,700 per month—on a gross income of $3,824 per month. By ordering such high monthly support payments the judge essentially guaranteed that Gerard would be unable to make them, at which point the court would, of course, throw Gerard in jail again. And, indeed, that has happened. At a hearing on September 13, 2022, the judge threw Gerard in jail for 30 days—the entirety of which Gerard was forced to serve because he could not post bond. … the trial court simply accepted at face value the figures assumed by the Friend of the Court of gross monthly income of $6,656. But that amount is based on nothing reflecting Gerard's actual income.
The trial court also opined that Gerard is able to work, but provided little detail to support that conclusion. (See 2/4/22 Tr., pp. 1018-1020, Apx. 1454a-1456a). Nothing in the evidence adduced at trial supports the trial court's declaration that Gerard could earn income of the type required to support the monthly payments that were ordered."(page 47)

Canon Law Cases Also
Mr. Garno also has made appeals in the canon law forum after his wife obtained a decree from the local diocese granting her permission to go to the civil forum. Mr. Garno's complaints in canon law forum include the following:
the Church never made any attempts to facilitate reconciliation;
his right of defense was denied because he was never given the chance to view items from the opposing side (including his wife's Petition, allegations and evidence), nor given a chance to respond to them;
If Mr. Garno was so terrible that his Catholic wife actually had a legitimate basis for separation of spouses, she would be doing everything in her power to try to find the right kind of help for strengthening a marriage like theirs. When I hear that a wife refuses to cooperate with marriage healing experts, she appears disingenuous.
At times like these, I hope Mr. Garno can find comfort sharing the mindset of St. Thomas More expressed in his to his daughter after being imprisoned by King Henry VIII.
And, therefore, my own good daughter, do not let your mind be troubled over anything that shall happen to me in this world. Nothing can come but what God wills. And I am very sure that whatever that be, however bad it may seem, it shall indeed be the best.
SOURCE