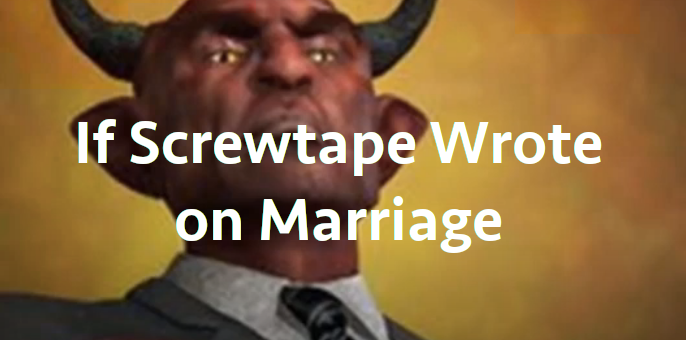 If Screwtape Wrote on Marriage
Posted by Mary's Advocates
On April 3, 2023
Two separated-faithful partnered to produce a poignant recording. Catherine from Georgia USA and Garrick in Australia created "If Screwtape Wrote on Marriage."
A New Screwtape Letter about How to Tempt Someone Standing for Marriage
"The Screwtape Letters" by C.S. Lewis is a Christian classic which follows letters written by a senior demon named Screwtape to his nephew, Wormwood. Wormwood is a less-experienced demon, therefore, Screwtape offers advice on how to help his "patients" toward "Our Father Below" and away from "the Enemy" (God). Below is a version of how Screwtape might instruct Wormwood to address the issue of Standers who continue to honor their vows and pray for their spouses.  ~CLA
This addition to the letters of Screwtape is written by Catherine Anderson and concerns a problem that was rare in Lewis's time, but is now widespread. Marriage is under attack with devastating impacts on the children caught up in families where a parent puts their own desires in front of their vow till death do us part. Christian marriages are far from exempt and too often one spouse abandons the marriage leaving the other committed to their Christian vows as a "Stander." The "patient" in this letter is a stander who is being tempted to follow the same path as their lost spouse.
Standers are people who have been maliciously abandoned by their spouses but continue to stand for their marriages, especially within their Christian faith. Standers live their vows to love and honour their spouses in these bad times till death despite encouragement from those about them to desert their vows before God, and even the rising flood of rash annulment decrees issued by the Catholic Church, especially in the English speaking world.
My dear Wormwood,
I am writing to commend you on the excellent work you have done over the past many years regarding marriage. Marriage is on the decline and divorce is rising even within the church. Our Father Below established a foundation within human flesh long ago to tend toward selfishness, individual rights and seeking better things and you have certainly taken my advice by exploiting the human heart to the fullest. There is no other way more effective and swifter at inflicting damage and gaining many for our Father Below than ruining marriages. Why go after the one, when you can take down a whole family and church body? Plus, Our Father Below receives the added delight of seeing vows that were made before the very eyes of the Enemy, broken.
However, I have noticed something exceedingly alarming with your latest patient and it must be dealt with immediately. She has decided to stand for her marriage. I know how diligently you have labored to cause chaos and confusion in her life. She is utterly broken and driven to her knees, but herein is where the greatest peril lies because the Enemy, without fail, will always swoop in and rescue at the sound of her cries. You must act quickly, Wormwood.
I have often found in such situations that subtlety works most effectively. Your patient is exceptionally faithful, continually bracing herself for the storm and trusting the Enemy to be her defense, though you have quietly allowed her to hope while you wove your web in the darkness, still she finds time to call upon the Enemy. Continue to persist, she will eventually let her guard down, as only those who surrender completely to the enemy, as Job did, can endure such endless suffering.  When her weariness and despair are great enough to entertain a moment of doubt, you need to be ready to move into the breach.
Usually a single false start as the one you orchestrated can accomplish this, but your patient resisted greatly, making her an even greater prize for Our Father Below. When the Enemy had planted seeds of return into the mind of the husband you stepped back and let him move towards her. Then at her happiest moment, when she was hopeful by this positive turn of events, you aimed all of your fiery darts at her, the husband and the other woman.  Still, your patient clings ever more tightly to the Enemy. The husband and other woman easily fell again, as their souls have already begun to fill with darkness, but this is not enough. Our Father Below is determined that he must have your patient, and all of her sons and other family as well.  You must enlist others to help as you will be held responsible if she remains with the Enemy.
Work with Glubose on this, he'll take care of the other woman; he is quite skilled at enticing words of flattery from her lips. As you have seen, these words fall on the husband's ears and lure him back with pangs of guilt and desire that he falls easily into the web of her arms and destruction.  Glubose will also continue to encourage the husband's parents and siblings to accept and support his lies of misplaced blame and rationalization, so he will continue to believe himself the victim rather than the perpetrator.  You did well to act on the husband's pride and vanity, luring him away with the prize of title and money.  Glubose will continue to work on his vanity bringing other women from our side to him to continue to stoke his ego and tempt him further.   He is so far from the Enemy now, your patient will surely begin to doubt.
Your patient will plunge from the mountaintop to the valley in a blink of an eye and you must move in rapidly before she has a chance to cry out to the Enemy. Whisper in her ear: "What good has your faith done you?" "Where is your God now?" and "You don't need this heartache, it's time to move on and be happy." Enlist the help of her trusted friends to echo these same lies. She'll continue to go to church, so gather Legion to work on her fellow Christians to reinforce that last sentiment. Do you remember that middle-aged couple from her church that Triptweeze deluded into divorce last year? It would be a nice touch to sit her near that man and his new wife this Sunday. Let her see first-hand what she is missing. Work very hard after this fall because this could very well be her undoing.
Our Father Below is monitoring the situation closely and the stakes are extremely high. If you should fail in your endeavor, the ripple-effect through the kingdom of darkness will be devastating and you will pay dearly. This may be your last chance to claim your patient for Our Father Below. We must convince her of her husband's unworthiness.  Remind her of how he used her to advance his own goals and vanities, tricked her into relinquishing her earning power, subtly encouraged his sons and others to withhold respect or regard her with dignity, threw her away after we used cancer to mutilate her body, and disregarded every pledge to honor, provide for, and protect her until death.
You see how she continues to intercede for her children, her husband, restoration of her marriage and family – and even the other woman.  You surely understand the gravity of that situation, as we are in danger of the Enemy guiding back her lost husband, her children and countless others who have been following her situation. Others in troubled marriages will be emboldened to stand and to hope – we simply cannot have that! On second thought, I am going to contact all demons in the area to aide you because we cannot allow any outcome other than a divorce that fills her with hatred and bitterness.
Your affectionate uncle,
Screwtape